Attendant
Jump to navigation
Jump to search
The Attendant is a character in Breath of the Wild,[1] introduced in The Champions' Ballad DLC pack.
Biography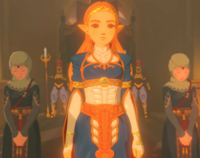 The Attendant was a servant to Zelda and the rest of the Royal Family of Hyrule before the Great Calamity.[1] Her duty was to accompany Zelda when she met with the leaders of other nations.[1]
During the "Champion Urbosa's Song" Recovered Memory, she can be seen alongside Zelda and another attendant, as she recruits Urbosa of the Gerudo become a Champion.[2] Urbosa would accept Zelda's request,[3] which Zelda would thank her for on behalf of Hyrule Kingdom.[4]
Nomenclature
See Also
References