Community
:
Golden Sun Universe
Jump to navigation
Jump to search
"
If you're an Adept among editors, you are invited to join our party of Adepts and help make this the most complete tome of knowledge for the Golden Sun series on the Internet.
"
— Golden Sun Universe
Golden Sun Universe is an independent wiki, owned by Erik Jensen (Erik The Appreciator), that covers all aspects of Nintendo's Golden Sun franchise. Beginning on Wikia in 2006, the wiki grew to sizable proportions before moving to an independent server in November of 2010. Later that same month, Golden Sun Universe was drafted as the fifteenth wiki of the Nintendo Independent Wiki Alliance.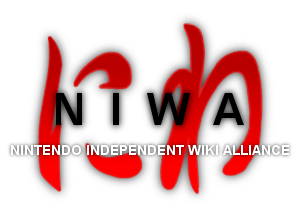 ARMS Institute

Bulbapedia

Dragalia Lost Wiki

Drawn to Life Wapopedia

Fire Emblem Wiki

F-Zero Wiki

Golden Sun Universe

Hard Drop Tetris Wiki

Icaruspedia

Inkipedia

Kingdom Hearts Wiki

Kovopedia

Lylat Wiki

Metroid Wiki
Mystery Dungeon Wiki

NintendoWiki

Nookipedia

Pikipedia

Pikmin Fanon

Rhythm Heaven Wiki

SmashWiki

Starfy Wiki

StrategyWiki

Super Mario Wiki

Ukikipedia

Wars Wiki

WikiBound

WiKirby

Xeno Series Wiki

Zelda Wiki