Community
:
Hard Drop Tetris Wiki
Jump to navigation
Jump to search

Please
improve it
as you see fit.
Editing help
is available.
This article has been flagged since December 2016.
"
This wiki is a community effort made to express all things Tetris. Anyone may contribute to this free information project. This wiki intends to keep the information factual and verifiable, and neutrally presented.
[1]
"
— Hard Drop Tetris Wiki
Hard Drop Tetris Wiki, also known as Tetris Wiki,[3] or Hard Drop - Tetris Wiki,[4] is a wiki focusing on the Tetris franchise that covers all aspects of the Tetris series from its history to its games to its mechanics. It is owned and operated by Hard Drop, one of the largest Tetris communities on the internet.
It joined the Nintendo Independent Wiki Alliance on January 17, 2014.[5]
Beginning its existence as Tetris Concept, the Tetris Wiki was created by caffeine in March 2006.[6]
With Tetris Concept closing in June 2009,[7] a member called Blink created Hard Drop the same month[8] and migrated the wiki, with permission, into the site.[9]
Before giving permission for Blink to host the wiki however, he had created another fork on Fandom, under Tetris Wiki.[9]
See Also
References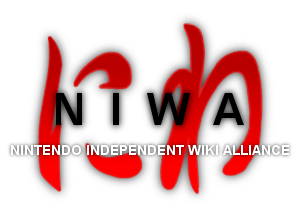 ARMS Institute

Bulbapedia

Dragalia Lost Wiki

Drawn to Life Wapopedia

Fire Emblem Wiki

F-Zero Wiki

Golden Sun Universe

Hard Drop Tetris Wiki

Icaruspedia

Inkipedia

Kingdom Hearts Wiki

Kovopedia

Lylat Wiki

Metroid Wiki
Mystery Dungeon Wiki

NintendoWiki

Nookipedia

Pikipedia

Pikmin Fanon

Rhythm Heaven Wiki

SmashWiki

Starfy Wiki

StrategyWiki

Super Mario Wiki

Ukikipedia

Wars Wiki

WikiBound

WiKirby

Xeno Series Wiki

Zelda Wiki