Community
:
Metroid Wiki
Jump to navigation
Jump to search
"
From the games, to every suit, vehicle and weapon. Metroid Wiki is still new, so show it your support and get involved in the community.
"
— NIWA Description of Metroid Wiki
Metroid Wiki is an independent wiki, founded by Nathanial Rumphol-Janc and the staff of ZeldaInformer on January 27, 2010, that focuses on all aspects of Nintendo's Metroid franchise, and relevant spin-offs such as the Super Smash Bros. Series. Metroid Wiki was formally inducted into NIWA on May 29, 2010 (the second to be inducted). As of July 2013, Metroid Wiki has grown to 1,600 articles.
Administration
The original staff of Metroid Wiki was comprised of just 3 members,[1] but grew and changed over time. In April 2011, Prod was listed as the wiki Owner,[2] and in May of that year, Procyon was listed as a co-owner.[3] The current Metroid Wiki staff are listed below in alphabetical order.
Current Staff
Embyr_75
Malake256
Metroidking
Nathanial Rumphol-Janc
Procyon
Prod
Trivia
Metroid Wiki's inception occurred on ZeldaInformer's forums in early 2010, and stemmed from ZI/VGRC's original plan to instate a "Metroid Informer" website, in a similar vein to ZI and Halo Informer.
Gallery
References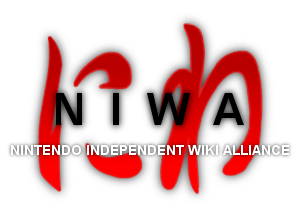 ARMS Institute

Bulbapedia

Dragalia Lost Wiki

Drawn to Life Wapopedia

Fire Emblem Wiki

F-Zero Wiki

Golden Sun Universe

Hard Drop Tetris Wiki

Icaruspedia

Inkipedia

Kingdom Hearts Wiki

Kovopedia

Lylat Wiki

Metroid Wiki
Mystery Dungeon Wiki

NintendoWiki

Nookipedia

Pikipedia

Pikmin Fanon

Rhythm Heaven Wiki

SmashWiki

Starfy Wiki

StrategyWiki

Super Mario Wiki

Ukikipedia

Wars Wiki

WikiBound

WiKirby

Xeno Series Wiki

Zelda Wiki