Divine Beast Vah Rudania
Jump to navigation
Jump to search
Divine Beast Vah Rudania is a Divine Beast and a dungeon in Breath of the Wild. It is a giant machine that takes the form of a Salamander.
Overview
Breath of the Wild
Entrance to the Divine Beast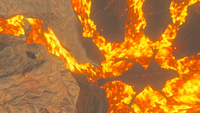 After crossing the Bridge of Eldin, Link and Yunobo begin their scale to attack Rudania. However, it deploys Sentries to hinder their progress, requiring that Link and Yunobo sneak by or destroy some of the Sentries to resume their scale.[1] Otherwise, if any of them are caught, Rudania will furiously unleash Magma Bombs at them.[2] The pair must travel to Death Mountain's three Cannons, using each them to fire at Rudania to weaken it. After using the third Cannon, Rudania falls into Death Mountain's crater, allowing Link to board it.
Once Link has entered it the first time, Rudania becomes a Travel Gate point which Link can return to at any time until he has completed the dungeon. If Link exits the dungeon before completing it, Yunobo will be present at Death Mountain Summit and express confusion on Link's reappearance.[3] Approaching the Divine Beast in the volcano's crater from above by gliding to it will skip to Link at the Travel Gate inside the dungeon. Upon its completion, Link can no longer enter the interior of Rudania, and warping to it takes him to Death Mountain Summit instead.

After entering Rudania, Link activates a Guidance Stone and creates a Travel Gate to Rudania. Daruk then speaks to him in spirit, guiding him the way to another Guidance Stone that will give Link a Map of the Divine Beast.
The interior of Rudania is initially pitch dark inside. Inside its walls are numerous Glowing Eyeballs. Shooting their eyes will destroy them and make a Treasure Chest appear in their place. The interior of Rudania is split into three sections; in the first section, shooting the Glowing Eyeballs will drop Treasure Chests containing five Ice Arrows, a Dragonbone Boko Club, and a torch. In the second section, treasure chests containing a Knight's Bow and a set of ten arrows altogether can be found. To progress through these sections, Link must light a weapon with Blue Fire from a lantern in the first section and use it light the other lanterns to open grated doorways. In the third section, Link finds the Guidance Stone that will give him the Divine Beast's map.
After receiving the map, Link is able to manipulate Rudania from the Sheikah Slate's map. Pressing the purple dials will cause Rudania to change its position by flipping onto its side. Doing so will change the orientation of its interior and exterior and allow Link to reach areas he could not previously before. Receiving the map also opens the shutters on Rudania's back, bringing light into its interior. Daruk instructs Link that he must find and activate each of Rudania's five Terminals to fully regain control of it.[4] Its Terminals are located in and on various places of its body.
After activating all of the Terminals, Link is directed by Daruk to Rudania's Main Control Unit, which is situated on its backside.[5] As Link approaches it, he is suddenly engaged by Fireblight Ganon and forced into a battle. After defeating Fireblight Ganon, a Heart Container drops and full control of Rudania is regained. Daruk then appears to Link as a spirit and grants him Daruk's Protection in gratitude.[6]
Minor Enemies
History
The Divine Beast Vah Rudania was created 10,000 years ago by the Sheikah, along with the other three Divine Beasts and Guardians, to combat Calamity Ganon.[7][8] Four Champions were picked to pilot the Divine Beasts, who launched a full-scale attack on Ganon,[9] headed by a princess and a hero wielding the Master Sword. Their efforts were successful and Ganon was sealed away for a time.[10]
110 years before the present, the Royal Family of Hyrule was warned by a fortune teller of Ganon's return.[11] The Divine Beasts were rediscovered after being excavated,[12] and four Champions were chosen to pilot them in a repeated battle of the past — the Goron Champion Daruk was chosen to operate Rudania.[13] It was also during this time that Rudania served as the protector of the Goron tribe of Eldin.[14] However, despite Link's, Princess Zelda's, and the four Champions' best efforts and preparations, Ganon surprised them by corrupting and taking control of the Divine Beasts.[15] Daruk was killed by Fireblight Ganon, a being created by Ganon to seize control of Rudania.[16] The losing battle resulted in Link collapsing and taken to the Shrine of Resurrection to recover, while Zelda fended off Ganon alone for the next 100 years.
100 years later, Ganon continues to hold influence over the Divine Beasts and Guardians.[17] Rudania now climbs along the rockface of Death Mountain,[18] plaguing the Gorons below by causing its eruptions to worsen and launching Magma Bombs.[19][20] Consequently, the Gorons' mining operations have declined as a result.[21] They have resorted to using Cannons to drive away Rudania, but it always returns.[22] While visiting Eldin on his quest to free the Divine Beasts from Ganon's influence, Link meets Bludo, the Gorons' Boss, who is partly responsible for driving Rudania away. Bludo had planned to use the Cannon at Death Mountain on Rudania, but had sent his assistant, Yunobo, to retrieve painkillers for his sore back. Link finds Yunobo at the Abandoned North Mine. However, even after delivering the painkillers, Bludo is still too sore to operate the Cannon and is forced to cancel. Link finds Yunobo again, but tells him that he wants to board Rudania.[23] The pair then decide to launch an assault on Rudania, using the Cannons stationed around Death Mountain and Yunobo as the cannonball, to weaken and disable it.[24] Together they lower the Bridge of Eldin to reach the mountain, which Bludo had previously rose to prevent Rudania from crossing over.[25]
After Link disables and reaches Rudania, he eventually confronts Fireblight Ganon and defeats him, returning full control of the Divine Beast to Daruk's spirit. With Rudania under his control again, Daruk operates it to climb to Death Mountain Summit where it takes aim at Ganon toward Hyrule Castle.[26] Daruk later unleashes Rudania's attack when Link confronts Ganon in Hyrule Castle,[27] inflicting 12.5% of damage upon him. When combined with the other freed Divine Beasts' attacks, the assault inflicts 50% of damage total.
Other Appearances
Hyrule Warriors: Age of Calamity
Nomenclature
Divine Beast Vah Rudania is named after Darunia, the Sage of Fire from Ocarina of Time.
Gallery
See Also
References