Goron Temple
Jump to navigation
Jump to search
The Goron Temple is a Temple in Phantom Hourglass.[1]
Entrance to the Temple
The dungeon is located on Goron Island. Link cannot access the dungeon until he becomes an official member of the Goron tribe by completing a quiz made by the Biggoron, the head Goron of the island and traveling through a maze. After meeting the conditions, he must chase Gongoron across the island, first through the inhabited area, and then through the aforementioned maze.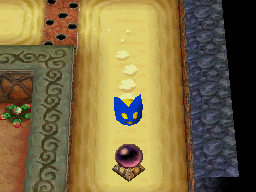 The Temple has a rocky theme with bodies of quicksand, which are dangerous for Link because he can sink into the sand, taking damage as a result. As the young hero explores the dungeon, he finds Bombchu after a unique puzzle where he must alternate control between him and Gongoron to press a series of switches. Later, with the help of Gongoron, Link defeats the boss, Dongorongo, and obtains the Crimsonine, one of the three Pure Metals needed to forge the Phantom Sword.
It is optional whether this Temple is completed before or after completion of the Temple of Ice and/or Mutoh's Temple.
Minor Enemies
Nomenclature
Gallery
References