Gutanbac Shrine
Jump to navigation
Jump to search
Gutanbac Shrine,[1] designated by the trial name The Ability to Rise,[1] is a Shrine of Light in Tears of the Kingdom.
Entrance to the

Shrine
The Gutanbac Shrine is located in the eastern part of the Garden of Time on the Great Sky Island between the entrances to the Bottomless Cave. In order to enter the Shrine of Light, Link must interact with the Gutanbac Shrine's entrance.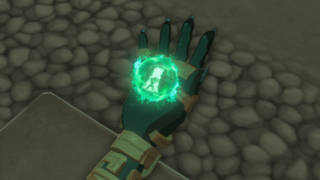 Once Link enters Gutanbac Shrine, he is greeted by the Spirit of Rauru,[2] who grants him the Ascend ability. The Gutanbac Shrine is heavily built around the use of the Ascend ability, with multiple ledges placed jutting out from higher areas. On its second level, a stone slab held up by two Ropes acts as the entry point to the third level once it is cut loose. The third level contains a floating platform that moves along a wall, testing Link's ability to use the Ascend ability in time with its motion.
A Statue of Rauru and Sonia can be found at the end of the Gutanbac Shrine. By interacting with the Terminal in front of the Statue, Link can receive a Light of Blessing to cleanse the corruption of Darkness from within him.[3][4]
Enemies
Treasure Chests
Treasure Chest
Contents
Notes
Treasure Chest
Contents
Notes
| Treasure Chest | Contents | Notes |
| --- | --- | --- |
| | | |
| | | |
Nomenclature
Names in Other Regions
Language
Names

伊拉薩庫神廟 (Yīlāsàkù Shénmiào)
古塔恩巴奇神廟 (Gǔtǎēnbāqí Shénmiào)

古塔恩巴奇神庙 (Gǔtǎēnbāqí Shénmiào)
伊拉萨库神庙 (Yīlāsàkù Shénmiào)

Sanctuaire Ila Saqu
Sanctuaire Gutan Bati

Sanctuaire Ila Saqu
Sanctuaire Gutan Bati

Gutanbatji-Schrein
Irazak-Schrein

Sacrario di Irasaku
Sacrario di Gutan Bah

Santuario de Gutanabaq
Santuario de Irasuq

This table was generated using translation pages.
To request an addition, please contact a staff member with a reference.
Gallery
See Also
References