Ice Palace
Jump to navigation
Jump to search
Ice Palace,(ALttP)[1] also known as Level 5,(ALttP)[2] the Ice Tower,(ALttP (Ishinomori))[3] and the Tower of Ice,(ALttP (Ishinomori))[4] is the fifth Dungeon in the Dark World in A Link to the Past.
Overview
A Link to the Past
Entrance to the Palace
Carved out of a massive Iceberg,[5] the Ice Palace is located in the middle of Ice Lake, the Dark World counterpart of Lake Hylia. Access to the dungeon is granted by swimming to the largest island in the Light World. Lifting up the black rock (which requires collection of the Titan's Mitt in Thieves' Town) reveals a portal; Link must step on it to be transported to the middle of Ice Island, where he can enter the dungeon.
The Ice Palace is possibly the first ice-themed dungeon in The Legend of Zelda series, followed six years later by the Ice Cavern from Ocarina of Time. As such, the ground is frozen in most rooms, making Link's traction more difficult. It contains numerous floors as well, although none of them have too many rooms, and the main objective is to descend to the last floor, where the boss resides. Link frequently has to move blocks that obstruct his way, and some creatures can only be defeated with the Fire Rod or the Bombos Medallion. This dungeon is considered to be one of the most difficult in the game, although one of its rooms has its complexity lowered in the Game Boy Advance port.[6] A similar location called the Ice Ruins exists in Lorule in A Link Between Worlds, though it is on Death Mountain while Lorule's version of Turtle Rock is located in the middle of a swamp.
Areas
Enemies
Other Appearances
A Link to the Past (Ishinomori)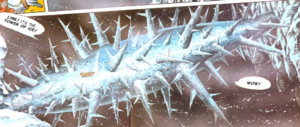 The Ice Tower is featured in the A Link to the Past comic by Shotaro Ishinomori. During Link's search for a map of the Dark World to know the whereabouts of Turtle Rock, the young hero travels to the Ice Tower, where they are confronted by Kholdstone. Link reveals that all he wants is to see the map of the Dark World,[7] but Kholdstone mentions that the map is his greatest treasure and will not let anyone see it.[8] The monster unleashes two Stalfos to attack Link, but when the young hero sees that they keep respawning even after defeating them, he begins to focus his power on the Master Sword,[9] which causes for the tower to begin to collapse. Kholdstone warns Link that if he destroys the tower, then he will destroy the map as well, making him realize that the map is etched on the tower's floor.[10][11] However, the tower collapses shortly after, with Link landing near the location of Turtle Rock.
Nomenclature
References