Sand of Hours
Jump to navigation
Jump to search

Please see the related discussion on this article's
talk page
for more information concerning its future layout.
The Sand of Hours is an integral part of Phantom Hourglass.[1]
Uses
Purpose
They provide the power for the Phantom Hourglass itself, allowing the one who holds it to penetrate further into the Temple of the Ocean King. They are made from the Force Gems of the Ocean King.[2] Without the Sand of Hours, the Phantom Hourglass is useless, as it is the Sand of Hours themselves that protect Link from getting his Life Force sucked away while inside the Temple of the Ocean King.
The Sand of Hours is the source of power for the Ocean King. According to Oshus, he used the Sand of Hours to make the Phantom Hourglass and enter the temple.[3] In addition, they are the crystallized form of the Life Force, which the game's antagonist, Bellum, consumes.[4] Oshus also explains that the monsters found within the temples are made of Sand of Hours, as well as the Phantoms that roam the Temple of the Ocean King.[5]
Invest and Recovery
Time spent inside of the Temple of the Ocean King depletes minutes, or more precisely, Sand of Hours, from the Phantom Hourglass. It is recharged instantly by the sun when outside the temple. Safe Zones however, do not deplete sand from the Phantom Hourglass. If Link gets hit by a Phantom, he will lose 30 seconds of Sand of Hours, and if he gets hit by a Wizzrobe, they will steal 15 seconds off the hourglass.
Time Bonuses can be found in Yellow Jars throughout the temple. These will not add to the total Sands of Hours and will just recover up to 30 seconds worth of sand.
After Zauz finishes making the Phantom Sword from the three Pure Metals, he will comment that Link must take the sword to the Ocean King so that he can add the Sand of Hours and empower the Phantom Sword with the ability to control time, which is necessary to ultimately defeat Bellum.[6]
Sand Locations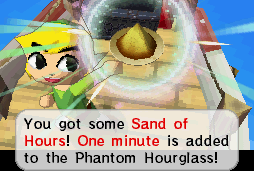 Link obtains the Phantom Hourglass with the Sand of Hours when the young hero goes back to the Temple of the Ocean King after receiving the Spirit of Power, Leaf. When Link first receives the Phantom Hourglass from a pedestal inside the first room of the temple, it comes with 10 minutes (this includes the time added by the sand obtained after defeat of Blaaz). With the exception of the Cubus Sisters, all of the subsequent regular bosses provide more Sand for the Hourglass upon defeat, enough for two extra minutes each worth of sand.[2][7] Link can gain sand worth a total of ten extra minutes this way.
Moreover, five treasure chests at sea hold one minute each as a reward, finally making the maximum capacity of the Phantom Hourglass to be 25 minutes of Sand of Hours. Below is a list of the location of these extra sand samples. Of important note is that all of them are underwater, thus requiring certain Treasure Maps to be collected beforehand:
Nomenclature
References