Second Quest
Jump to navigation
Jump to search
It has been requested that image(s) be added to this page.
Please remember to remove this template once the image(s) have been added.
The Second Quest,(TLoZ | TWW)[1][2] also known as Second Round,(ZG&W)[3] is a recurring mode in The Legend of Zelda series.[note 1] The Second Quest goes unnamed in The Adventure of Link.
Overview
The Legend of Zelda
The Second Quest in The Legend of Zelda is unlocked after completing the game. Doing so replaces the file icon with Link holding a Sword. The Second Quest consists of Dungeons being located in different places with an added difficulty.[5] Heart Containers and some shops found in the overworld are also changed to different locations. The name "ZELDA" can be used in the name input screen to start the Second Quest automatically.[6]
The Adventure of Link
The Second Quest in The Adventure of Link can be unlocked after completing the game. The file will now include a Triforce piece next to its name. During the Second Quest, Link gets to keep all the Spells learned in the previous Quest, as well as his levels for Skill, Magic, and Life, making the game rather easier. Special items found in Palaces have to be retrieved again, as well as any Heart Containers and Magic Containers.
The Wind Waker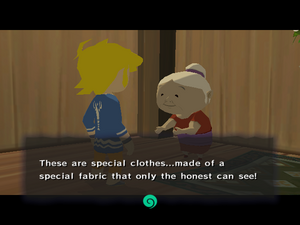 The Second Quest in The Wind Waker can be unlocked after completing the game. During the Second Quest, Link receives the invisible Hero's New Clothes from his Grandma instead of a green tunic, making him appear to wear his initial outfit for the entire game, while Aryll wears her pirate dress previously seen in the game's ending. Link also starts with the Deluxe Picto Box in his Inventory, and all the Figurines he collected in the first quest are carried over. All of the Hylian language spoken by Valoo, the Great Deku Tree, and Jabun is translated in the Second Quest, and the locations of sunken treasure found by Treasure Charts will be different; usually further away from the island than they were in the first quest.[verification needed]
Other Appearances
Zelda (Game & Watch)
In Zelda (Game & Watch), after the ending scene in which Princess Zelda is rescued, if Link presses the attack button, the second round will start. The second round has quicker enemies and Link's score from the previous game is carried over.[3]
Trivia
The Second Quest from The Legend of Zelda was created after Takashi Tezuka arranged the Dungeons in the First Quest in a way that only half of the memory available was used.[7]
During the development of Skyward Sword, Zelda's adventure after landing on The Surface was originally planned to be included as a playable Second Quest. Although the idea was scrapped, this setting was used during the game's credits.[8]
Gallery
See Also
Notes
References