Brotherhood of Underworld Monsters
Jump to navigation
Jump to search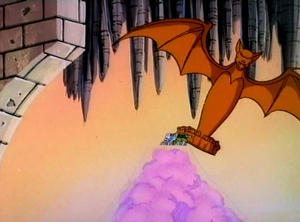 The Brotherhood of Underworld Monsters is an organization made up by Ganon's minions that were tired of having to take the blame for his failed plans at retrieving the Triforce of Wisdom.[1] They are commanded by a Moblin.
History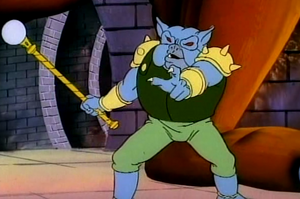 After two Moblins and two Goriyas once again fail to obtain the Triforce of Wisdom from Link, Ganon berates them and electrocutes them with his magic for their failure.[2] One of the Moblins then complains as to why they have to be punished for it when it was Ganon's plan in the first place,[3] and the other three monsters agree with him, with one Goriya saying that they should kick him out since they can do better than him.[4] Later, when Ganon returns to his lair and shows a Moblin on how his new Capture Staff works, one of the Moblin steals the Capture Staff and traps Ganon inside the indestructible bubble as he reveals that the monsters are sick of his plans.[1] With Ganon now trapped, the Moblin pushes him into the Bottomless Pit to prevent him from ever touching the Triforce of Power and bursting the bubble.[5] The Moblin leader proceeds to free all of the monsters trapped within the Evil Jar and gives them the news that Ganon is gone, to which they all answer with a cheer as they realize that they are in charge now.[6] Unfortunately, the Moblin leader hands the Capture Staff to another Moblin, specifically telling him not to drop it,[7] but the bumbling foe misunderstands the message and breaks the staff,[8] much to the leader's dismay.[9]
As their first plan, the Moblin leader commands that they must get revenge on Link and Zelda.[10] They deliver a message to Princess Zelda, telling her to "surrender or be destroyed,"[11] and when she and Link look outside, they realize that the minions have laid siege to North Castle.[12] However, they soon find out that they pose no threat since their army is disorganized as they are botching their attempts to attack the castle by accidentally shooting their own troops and not following the Moblin leader's orders.[13][14][15] Eventually, the monsters wear themselves out and, having accomplished nothing meaningful, Ganon teleports them back to the Underworld when he manages to free himself.[16]
Gallery
Ganon's monsters after being liberated from the Evil Jar
References