Community
:
Zelda Wiki
Jump to navigation
Jump to search
Zelda Wiki is an independent English-language wiki dedicated to The Legend of Zelda series. The site is a founding member of the Nintendo Independent Wiki Alliance (NIWA) and the oldest active wiki for the Zelda franchise.
The wiki was founded by members of Zelda Universe. In 2017, Zelda Universe's parent company Linkorporated sold Zelda Wiki to Curse, whose media assets were in turn acquired by Fandom the following year. On October 19, 2022, Zelda Wiki forked away from Fandom to reclaim independence.[2] The site's current domain is owned by members of the Zelda Wiki staff. The wiki's servers are operated by the owner of StrategyWiki, a longtime affiliate and fellow NIWA member.
History
2005–2006: Zelda Universe Wiki
The original Zelda Universe Wiki (ZU Wiki) was created as an "act of boredom" in April 2005.[3] Yami and Jess suggested the idea in the ZU chat room, where it was created and assembled. The wiki was publicly announced on June 20, 2005.[4] The Zelda Universe Wiki was quickly filled with information, not only about The Legend of Zelda series, but also about Zelda Universe and its community. As Zelda Universe Wiki, the site was located at wiki.zeldauniverse.net.
One stated goal of Zelda Universe Wiki was to host Zelda Universe's Zelda Encyclopedia.[5] The Zelda Encyclopedia was a list of terms from The Legend of Zelda with short descriptions (1-3 sentences) of what they are, sorted alphabetically. Despite hosting the encyclopedia being one of the stated goals of Zelda Universe Wiki, little (if any) content directly from the encyclopedia appears to have been used to populate the wiki; instead, the wiki appears to have fully superseded the encyclopedia without inheriting any of its content.
2006–2011: Zelda Wiki.org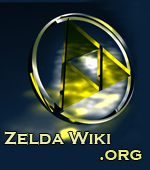 In September 2006, the wiki was moved to another new server, with a new philosophy and under a new name. The wiki had been experiencing significant downtime, with it being restored on September 9, 2006 at zelda.thejasoneffect.net.[6][7] The wiki, now hosted by GoldenChaos's website thejasoneffect.net,[6] was initially renamed The Zelda Effect (TZE) and located at zelda.thejasoneffect.net.[8][9]
At the time, many The Legend of Zelda fansites had created their own wikis. The ambition for this new iteration of the wiki was that it would become the definitive wiki for The Legend of Zelda, unifying various fansites by allowing them to adopt it as their own.[8][10] Fansites who adopted the wiki as their own wiki were linked on the Main Page, and their webmaster was granted sysop userrights on the wiki.[8] The first site other than Zelda Universe to join was Zelda Central, joining on September 10, the same day the program was announced.[11] This affiliation program later came to be called the "Masterminds" program.
On September 13, 2006, after the announcement of The Zelda Effect and its philosophy, Lars suggested in the comments of the announcement that it would make more sense to call the wiki simply "Zelda Wiki" and purchase the domain zeldawiki.org.[12][9] On September 16, 2006, the domain zeldawiki.org was registered;[13] the wiki was moved to zeldawiki.org and renamed Zelda Wiki.org shortly afterwards.[14][15][16][17]
As part of this migration, the site began a rebranding process, to move to a more general Zelda theme rather than Zelda Universe-specific branding.[8] On October 22, 2006, the site was updated with a new design (called "Old Blue") and logo, with the old design retroactively referred to as "ZW.org White".[18] The site now had two logos: a site logo (visible in the top corner of every page) and a main page logo (only used on the main page),[18] both having the appearance of a Triforce design on a glass disc. The main page logo was a flat design created by GoldenChaos with assistance from thoosje,[19] while the site log was an angled rendering with the site's name below it. The glassy design was inspired by the Windows Vista user interface.[19]
In June 2007, Angela Beesley from Wikia approached Zelda Wiki about potentially merging with their The Legend of Zelda wiki. After discussion among Zelda Wiki's "owners" (the webmasters of the partner fansites), it was unanimously agreed to reject the offer. The two main reasons cited were a loss of independence and the sheer amount of work required to conduct such a merge.[20]
In November 2007, Zelda Wiki formed a partnership with StrategyWiki, where Strategy Wiki would link to Zelda Wiki for Zelda content.[21]
On January 20, 2008, Zelda Wiki disabled anonymous editing, requiring all users to have an account in order to edit.[22]
On August 31, 2008, Zelda Wiki integrated OpenID, allowing users to log into the wiki using their OpenID account instead of creating a separate account on Zelda Wiki.[23] Plans to integrate OpenID on Zelda Wiki were first announced in April 2007.[9]
In November 2008, Open Court Publishing Company published The Legend of Zelda and Philosophy: I Link Therefore I Am. In its front matter, the book referred readers to Zelda Wiki.[24]
On November 14, 2008, the site's affiliation program was renamed the "Masterminds" program.[25]
On August 14 2009, Zelda Wiki received LegendOfZelda.com's Pinnacle award, given to the overall best site for the last year.[26] LegendOfZelda.com had become one of Zelda Wiki's Masterminds earlier that year.
On February 14, 2010, the Nintendo Independent Wiki Alliance was co-founded by Zelda Wiki, Bulbapedia, and Super Mario Wiki. The three wikis shared "a mutual disdain for the recent corporatization of wikis" and stated its mission "to aid independent Nintendo wikis, to nurture them and help them grow so that never will they have to sell out."[27][note 1]
In the March 2010 issue of the British Official Nintendo Magazine, a feature article on the Zelda Timeline referred readers to Zelda Wiki for further reading, alongside Masterminds Zelda Universe and Zelda Informer.[29] The Australia and New Zealand Official Nintendo Magazine (which largely reuses content from its British counterpart) included this article (with the mention of Zelda Wiki) in its April 2010 issue.[30]
2011-2016: Zelda Wiki
In January 2011, a vote was held to decide whether to change the name of the site from "Zelda Wiki.org" to simply "Zelda Wiki".[31] On January 17, 2011, the site's name was officially changed to Zelda Wiki.[32] At the time, the site logo still included "Zelda Wiki.org"; some time between the name change and April 2011, a rule was added to the site's CSS to visually crop out ".org" from the site's logo, without requiring a new image be uploaded.[33]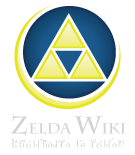 On May 22, 2011, the site changed its default skin from Monobook to Vector.[34] The Vector skin included a different logo, with this new logo becoming the site logo going forward.
At the start of June 2011, support for OpenID was silently dropped.[35] Zelda Wiki staff argued that OpenID integration did "harm than good", complaining that it "makes renaming buggy, it conflicts with user creation logs, it breaks bot account scripts, it causes database errors, etc."[36]
In 2013, the Mastermind system was retired, with control of the wiki fully in the hands of the editor community rather than the affiliated fansites.[37] On April 24, 2015, to celebrate the site's 10th anniversary, the site's logo was changed and the Main Page was redesigned.[38] The logo was changed to a flat monochrome (white) circled Triforce.
2017–2018: Gamepedia
On March 8, 2017, Zelda Wiki was migrated to Gamepedia, a wiki farm, as a result of Curse's purchase of the site from Linkorporated. The site's URL was changed to zelda.gamepedia.com. Despite this move, the site's design was mostly unchanged, other than the addition of the Gamepedia footer.
User accounts were not included in the transfer; to link their past edits to their Gamepedia account, users had to submit a form to Gamepedia staff with the name of their old Zelda Wiki account and the name of their Gamepedia account to request their accounts be merged. Unmerged accounts became "legacy" accounts, which could not be logged into.[39]
2018–2022: Fandom
On December 12, 2018, Gamepedia was acquired by Fandom (the wiki farm originally known as Wikia). Combining the two platforms was a difficult task, so Gamepedia continued to operate independently for a substantial period of time.
Fandom already had a long-running The Legend of Zelda wiki on its platform, Zeldapedia. After discussions with Fandom staff and Zelda Wiki, in May 2019, Zeldapedia admin Ceiling Master announced a proposal to archive Zeldapedia and have its remaining editors "cross over" to Zelda Wiki.[40] The Zeldapedia community voted overwhelmingly in favour of this proposal, with voting closing at the end of May.[41] The cross-over officially took place on June 15, 2019.
In July 2020, the account systems of Gamepedia and Fandom were merged. Fandom attempted to merge accounts when they were able to establish that the Fandom and Gamepedia accounts of the same name belonged to the same user (e.g. due to sharing an email address or Twitch ID). In cases in which the accounts could not be merged, Fandom applied a set of rules to determine which account got to keep the account name; losing Fandom accounts were renamed to have the suffix "-fduser", while losing Gamepedia accounts were renamed to have the suffix "-gpuser". Legacy accounts on Gamepedia that were leftover from migrations to Gamepedia (such as the migration from zeldawiki.org) were renamed to have a "@legacy" suffix.[42]
On March 24, 2021, Zelda Wiki's URL was changed to zelda.fandom.com.[43] Fandom had announced in November 2020 that all Gamepedia wikis would be migrating to fandom.com URLs instead of gamepedia.com URLs for SEO reasons.[44]
On August 4, 2021, Zelda Wiki's skin was changed to the new FandomDesktop skin.[45] When Fandom announced the upcoming FandomDesktop skin in March 2021, Zelda Wiki was used for all of the example screenshots.[46]
2022–Present: Independence On October 19, 2022, Zelda Wiki officially announced its departure from Fandom.[2] Its staff created a fork to be hosted by the owner of StrategyWiki. The move was covered by several gaming news sites including Kotaku and GamesRadar+.[47][48] The fork was initially named Zeldapedia and located at zeldapedia.wiki.
On January 17, 2023, the site changed its name back to Zelda Wiki and moved to zeldawiki.wiki.[49] The site's logo was also updated to a coat of arms design.
Partnerships
Fansites
Zelda Wiki retains a partnership with its founder Zelda Universe. Zelda Wiki's game articles refer readers to Zelda Universe guides. A link to Zelda Wiki is featured prominently in Zelda Universe's global site navigation. Zelda Universe staff members are largely responsible for the current design of the wiki's Main Page.
Masterminds
From 2006 to 2013, Zelda Wiki was collectively governed by a federation of The Legend of Zelda fansites named Masterminds. Key staff members of Mastermind sites were granted bureaucrat privileges on the wiki.
Mastermind
Dates
Webmaster(s)

September 12, 2006

[50]

– January 18, 2009

Fury Three, Tempest, and Captain Cornflake

September 13, 2006

[51]

– January 15, 2008

September 17, 2006

[52]

– April 9, 2008

September 15, 2006

[53]

– March 24, 2007

September 24, 2006

[54]

– January 18, 2009

September 17, 2006

[55]

– March 24, 2007

September 10, 2006

[11]

– January 15, 2008

September 19, 2006

[56]

– December 14, 2007

April 20, 2008 – March 30, 2009

April 1, 2009 – October 31, 2011

September 24, 2006

[57]

– January 15, 2008

September 24, 2006

[58]

– January 15, 2008

January 18, 2008 – January 21, 2009

Henhouse and The Burning Link

September 12, 2006

[59]

– January 10, 2007

Skermefaten and AppHunter

September 28, 2006 – January 18, 2008
April 27, 2008 – July 9, 2008

January 10, 2007 – March 23, 2007

January 15, 2007 – January 15, 2008

February 13, 2007 – January 18, 2009

Nathanial Rumphol-Janc and EA

February 15, 2007 – January 18, 2008
July 9, 2008 – January 18, 2009

July 28, 2007 – August 24, 2011

Dennis Wyman, Ilmari Arnkil, and Phil Stetson

September 20, 2008 – July 2, 2010

davogones, Khuffie, and lord-of-shadow

April 15, 2009 – August 11, 2009
September 5, 2010 – October 31, 2011

Amy Bolduc, Jake Johnson, and Tin_Man

April 29, 2009 – March 4, 2012

Link of Hyrule, Last Chance, and Xizor

May 4, 2009 – August 7, 2011

June 23, 2009 – July 3, 2009
Wikis
Zelda Wiki is a member of the Nintendo Independent Wiki Alliance (NIWA), a network which it co-founded with Bulbapedia and Super Mario Wiki. As such, Zelda Wiki has a interwiki link affiliation with all NIWA member wikis.
Zelda Wiki has a special affiliation with fellow NIWA member StrategyWiki. The two wikis link to each other in their articles pertaining to The Legend of Zelda games, bosses, and dungeons. Since October 22, Zelda Wiki is hosted on ABXY, StrategyWiki's own hosting platform.
Zelda Wiki has interlanguage link agreements with the following wikis:
Statistics
Zelda Wiki has:
14,646 articles
48,518 media files
27,873 registered users
Gallery

It has been requested that image(s) be added to this section.
Please remember to remove this template once the image(s) have been added.
Main Page
April Fools
Logos
Special Event Logos
See Also
Notes
↑ NIWA's initial About page claimed Zelda Wiki administrator Melchizedek (Dathen) initiated the alliance talks in January 2010. Former Zelda Wiki administrator Emma has since claimed that she first pitched the inter-wiki alliance in September 2009 in a private Zelda Wiki staff chat on Skype, and was not given due credit for coming up with the idea.[28]
References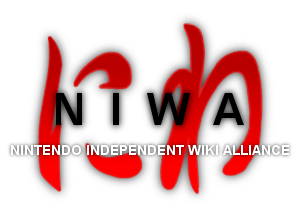 ARMS Institute

Bulbapedia

Dragalia Lost Wiki

Drawn to Life Wapopedia

Fire Emblem Wiki

F-Zero Wiki

Golden Sun Universe

Hard Drop Tetris Wiki

Icaruspedia

Inkipedia

Kingdom Hearts Wiki

Kovopedia

Lylat Wiki

Metroid Wiki
Mystery Dungeon Wiki

NintendoWiki

Nookipedia

Pikipedia

Pikmin Fanon

Rhythm Heaven Wiki

SmashWiki

Starfy Wiki

StrategyWiki

Super Mario Wiki

Ukikipedia

Wars Wiki

WikiBound

WiKirby

Xeno Series Wiki

Zelda Wiki