Community
:
Wars Wiki
Jump to navigation
Jump to search
Wars Wiki is an independent wiki, owned by Jojo, that covers all aspects of Nintendo's Advance Wars and Battalion Wars franchises. The wiki was founded in February 2009 as an in-house wiki to Wars Central, the fan community hub for the Advance Wars series that includes popular forums, access to game statistics and information, and walkthroughs. Wars Wiki was the third wiki to be inducted to the Nintendo Independent Wiki Alliance on June 4, 2010.
Wars Wiki was the first NIWA wiki to champion spelling deviations by region, a personalized feature that prevented European spellings to appear to an American user, and vice versa. Though in the beta stage, this personalization lead to prospective wiki functions in other fields, including article personalization (a user's name would appear in the place of "you" or "the player" in articles), a potential future feature of fellow NIWA wiki, WiKirby.
In February 2018, following the announcement that Wars Central would be closing on March 1, Wars Wiki was moved to a new domain by Prodigion.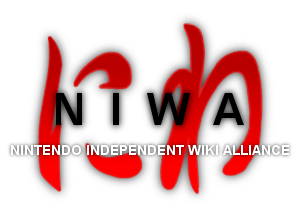 ARMS Institute

Bulbapedia

Dragalia Lost Wiki

Drawn to Life Wapopedia

Fire Emblem Wiki

F-Zero Wiki

Golden Sun Universe

Hard Drop Tetris Wiki

Icaruspedia

Inkipedia

Kingdom Hearts Wiki

Kovopedia

Lylat Wiki

Metroid Wiki
Mystery Dungeon Wiki

NintendoWiki

Nookipedia

Pikipedia

Pikmin Fanon

Rhythm Heaven Wiki

SmashWiki

Starfy Wiki

StrategyWiki

Super Mario Wiki

Ukikipedia

Wars Wiki

WikiBound

WiKirby

Xeno Series Wiki

Zelda Wiki