Community
:
Nintendo Independent Wiki Alliance
Jump to navigation
Jump to search
The Nintendo Independent Wiki Alliance, NIWA for short, is a network of wikis and their associated websites which aim to chronicle all things Nintendo, supporting wikis independent of large corporate organizations.
Background
Inception
NIWA began as an expansion of the concept of Bulbapedia's Encyclopaediae Pokémonis, shortly after administrators from Zelda Wiki contacted Archaic, Bulbagarden's head, about a possible affiliation.[1] It was jointly decided, shortly thereafter, that rather than a simple affiliation, an entire network of Nintendo-based wikis could be started, and Super Mario Wiki was asked to join as the third founding member.[2] After a little under a month of planning, NIWA was launched on February 14, 2010, coincidentally the fifth anniversary of the public launch of Bulbapedia.[3]
Mission
NIWA set out from its inception to provide a supportive alternative to the recent corporate fusion of internet wikis, spearheaded by Wikia, the largest and most influential online multi-wiki host.[4] While NIWA focuses on Nintendo franchise wikis only, the organization has provided an outlet for independent, beginning, and even few ex-Wikia wikis to exist within a highly supportive, democratic atmosphere.[5] The organization works from within to help budding wikis work towards reliable server access, a sustainable userbase, and an aesthetically pleasing appearance, all the while encouraging users from neighboring wikis to join in on the large amount of wiki work needed to better the coalition.[5] Current NIWA members, Lylat Wiki and WikiBound, began as internal wikis, headed and built from inside the organization itself to be inducted later on. The organization is organic and city-like by nature; NIWA's users have a high rate of overlap and movement between the different sites that represent the group.
NIWA is unique in that there is no autocratic leadership; the general staffs of the wikis themselves take a democratic, yet transparent approach to governing the system, and the wikis themselves are independently owned.[6] In this way, the group places the input of all inducted wikis on the same level of importance, without interfering with any wiki's individual values. There is, however, a NIWA Coordinator who was elected by the Wikis to help lead the organization and facilitate progress. NIWA uses a site-wide forum system to implement policies, induct and nominate members, and conduct interwiki business.
Currently, 29 wikis comprise NIWA: ARMS Institute, Bulbapedia, Dragalia Lost Wiki, Drawn to Life Wapopedia, Fire Emblem Wiki, F-Zero Wiki, Golden Sun Universe, Hard Drop Tetris Wiki, Icaruspedia, Inkipedia, Kingdom Hearts Wiki, Kovopedia, Lylat Wiki, Metroid Wiki, Mystery Dungeon Franchise Wiki, NintendoWiki, Nookipedia, Pikipedia, Pikmin Fanon, Smash Wiki, Starfy Wiki, Strategy Wiki, Super Mario Wiki, Ukikipedia, Wars Wiki, WikiBound, WiKirby, Xeno Series Wiki, and Zelda Wiki. Former members of NIWA include Donkey Kong Wiki and Dragon Quest Wiki. Donkey Kong Wiki was a former member of NIWA before it was merged with Super Mario Wiki. Dragon Quest Wiki left and was expelled from the alliance in December 2022 following inappropriate misconduct done on the part of the new host of the wiki.[7] NIWA also has two German members: MarioWiki and Zeldapendium, and four Italian members (branded under Network italiano wiki indipendenti Nintendo or NiwiN): Pokémon Central Wiki, Super Mario Wiki, Wikibound, and Xenopedia.
It is commonplace for an aspiring wiki to affiliate with NIWA before considering induction.
Name
NIWA's name, an acronym of Nintendo Independent Wiki Alliance, is also romanized Japanese for "garden", symbolizing the natural growth of the community around its sectarian fandoms.[8] This is fitting, given Nintendo's Japanese origins, with romanization of Japanese being an important aspect of the wikis that make up the network.
Trivia
NIWA's NintendoWiki not only acts as a cumulative source for all things Nintendo, but as NIWA's home wiki: it provides a statistical snapshot of every inducted wiki, and promotes the project as a whole.
Gallery
External link
References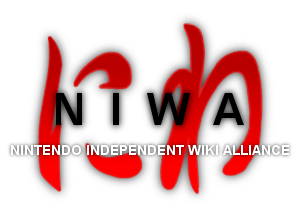 ARMS Institute

Bulbapedia

Dragalia Lost Wiki

Drawn to Life Wapopedia

Fire Emblem Wiki

F-Zero Wiki

Golden Sun Universe

Hard Drop Tetris Wiki

Icaruspedia

Inkipedia

Kingdom Hearts Wiki

Kovopedia

Lylat Wiki

Metroid Wiki
Mystery Dungeon Wiki

NintendoWiki

Nookipedia

Pikipedia

Pikmin Fanon

Rhythm Heaven Wiki

SmashWiki

Starfy Wiki

StrategyWiki

Super Mario Wiki

Ukikipedia

Wars Wiki

WikiBound

WiKirby

Xeno Series Wiki

Zelda Wiki