Error
Jump to navigation
Jump to search
Error is a recurring character in The Legend of Zelda series.[1][2]
Biography
The Adventure of Link
In The Adventure of Link, Error is a citizen of Ruto Town. At first, Error only introduces himself when talked to,[3] but after Link meets a second man in Mido Town and is encouraged to ask Error about how to get to the Island Palace,[4] Error will tell Link about the passage to the palace south of the king's tomb.[5]
The sprite design for Error is used for characters in other towns who can sometimes be similarly unhelpful,[6] although a few of them give Link very useful hints about using the Fire Spell or finding the Three-Eye Rock Palace.[7][8]
Other Appearances
Defenders of the Triforce
Nomenclature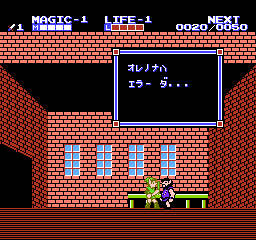 Error's name is meant to form a pun with that of Bagu whose name is the Japanese spelling of a computer "bug." In the Japanese version of The Adventure of Link, Error makes the less vague statement "My name is Error..." (Ore no na wa Erā da...).[9] His name is written エラー (Erā), the Japanese way of writing the English word "error." Only Error's name properly transferred over during the English localization.
Trivia
Error was given a brief reference in Super Paper Mario, where the character Fracktail is brainwashed into fighting Mario by one of the main antagonists, Dimentio and says his quote.[14]
The quote "I am Error" became an Internet meme around 2000, it is referenced in other video games which include Fossil Fighters: Champions, Guacamelee!, The Binding of Isaac, Splatoon 2.
Gallery
See Also
References