Ancient Helm
Jump to navigation
Jump to search
Ancient Helms are recurring Items in The Legend of Zelda series.[1][name references needed]
Location and Uses
Breath of the Wild
Ancient Helms are pieces of Armor that can be purchased from Cherry at the Akkala Ancient Tech Lab. When worn, they provide one level of Guardian Resist. Ancient Helms can be enhanced by a Great Fairy and can be Dyed at the Kochi Dye Shop. The Ancient Helm, alongside the Ancient Cuirass and Ancient Greaves, compose the Ancient Set. When each piece of the Set has been enhanced at least two times by a Great Fairy and the full Set is worn, it provides an Ancient Proficiency Set Bonus.
| Level | Defense | Materials | Sell Price |
| --- | --- | --- | --- |
| | | | |
| | | | |
| | | | |
| | | | |
| | | | |
Other Appearances
Super Smash Bros. Ultimate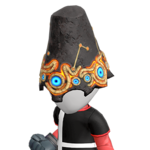 The Ancient Helm appears as a Mii Headgear, wearable by Mii Brawlers, Mii Gunners and Mii Swordfighters, in version 7.0.0 of Super Smash Bros. Ultimate. It is an exclusive bonus received alongside the Ancient Soldier Gear as part of the Fighters Pass Vol. 2, released on January 28, 2020.
Nomenclature
Names in Other Regions
Language
Names
Meanings
Ancient Helm
古代兵装‧兜 (Kodai heisō: kabuto)
 
古代兵裝‧頭盔 (Gǔdài bīng zhuāng: tóukuī)
 
Geavanceerde helm[2]
Advanced Helm
Casque archéonique
 
Casque archéonique
Archaonic helmet
Antiker Helm
 
Elmo ancestrale
 
고대 병기‧투구 (Godae byeonggi: Tugu)
 
Древний шлем (Drevniy shlem)
 
Casco ancestral
 
Casco ancestral
 
This table was generated using translation pages.
To request an addition, please contact a staff member with a reference.
Gallery
See Also
References