Prima Games
Jump to navigation
Jump to search
Prima Games was a publisher of officially licensed strategy guides established in 1990.[1] It was selected by Nintendo to provide the official strategy guides for their games, including The Legend of Zelda series (as of Phantom Hourglass), after Nintendo Power ceased publication in 2012. In 2013, they joined forces with BradyGames, another publisher which also released several The Legend of Zelda strategy guides.[2] In Spring 2019, Prima Games was discontinued following a "decline in the video game guide sector".[3]
The Legend of Zelda Official Guides
In addition to their standard Premiere Edition guides and eGuides, Prima released Collector's Editions for all The Legend of Zelda games starting with Twilight Princess. These guides feature hardcovers, gilded pages, and bonus items such as maps, bookmarks, and lithographs.[4]
On November 26, 2013, Prima released a limited edition box set celebrating the legacy of the series. It included six Collector's Edition guides spanning all The Legend of Zelda releases from Twilight Princess to The Wind Waker HD, along with a Treasure Chest bookholder, a gilded two-sided bookmark, and a certificate of authenticity signed by Eiji Aonuma.[5] This was the only time Prima released an Ocarina of Time 3D Collector's Edition guide as an exclusive this box set.[6] It also included a revised and expanded Skyward Sword guide with over 100 pages of new content,[7] and an updated version of the Twilight Princess guide. The box set was limited to 50,000 copies.[8]
Premiere Editions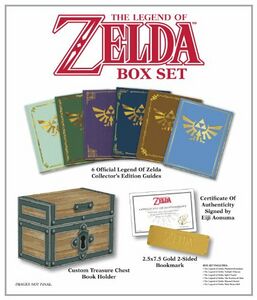 Collector's Editions
Twilight Princess (Wii version; includes cloth world map)
Phantom Hourglass (includes bookmark, story booklet, and a double-sided poster)
Spirit Tracks (includes parchment world map)
Skyward Sword (includes cloth surface world map)
The Wind Waker HD (includes cloth sea chart)
A Link Between Worlds (includes framed lithograph)
The Legend of Zelda box set: (includes chest bookholder, gilded bookmark, and certificate of authenticity)

Twilight Princess
Phantom Hourglass
Spirit Tracks
Ocarina of Time 3D
Skyward Sword
The Wind Waker HD

Majora's Mask 3D (includes character clings)
Tri Force Heroes (includes screen cleaner)
Twilight Princess HD (includes cloth world map)
Gallery
Premiere Editions
Collector's Editions
External Links
References