The Legend of Zelda: Ocarina of Time 3D
Jump to navigation
Jump to search
The Legend of Zelda: Ocarina of Time 3D is a Nintendo 3DS remake of the Nintendo 64 game, Ocarina of Time. It was officially announced in E3 2010, where only a couple of screenshots of the introduction were released.[10][11][12] In the 2011 Game Developers' Conference, Satoru Iwata hinted at a June release date.[13] Japan's release date was later confirmed to be June 16, 2011,[14] followed by the European release date on June 17[15] and finally releasing in the U.S. on June 19, 2011.[16] The game also includes a remake of Master Quest, which was originally released for the Nintendo GameCube, as an unlockable game mode.[17]
Changes and Additions
Graphics
The 3DS version is the first port of Ocarina of Time that recreates the graphics, instead of simply porting over the N64 ones, to take advantage of the more powerful hardware and fit modern standards. It is the first version of the game that is not an emulation, as the GameCube and Wii versions are. As such, most textures are significantly more detailed, and many models consist of more polygons than the original and are generally more faithful to the game's concept and promotional art. In addition, the frame rate has been increased to 30 FPS, compared to the original's 20 FPS. This reduces choppiness significantly.
Revamped Item System
The game includes an all-new system for equipping items. Specifically mentioned at the game's announcement were the Iron Boots, due to the constant swapping necessary in the Water Temple. Both the Iron Boots and Hover Boots have been converted into items, as the Iron Boots are in The Wind Waker and Twilight Princess. In addition, the three different arrow types are accessed in a "sub-menu" that is brought up when the player selects their bow twice in their inventory, rather than being treated as separate items. The new item system consists of two items that are mapped to the X and Y Buttons, and two touch-screen only slots that are labeled I and II. Any item can be mapped to these, and they can also be cleared. The item screen now allows players to organize their inventory themselves, rather than each item having a set spot on the subscreen. When acquired, items are automatically placed in the next available spot in the 4×5 grid. Selecting an item shows its full "collection" model on the upper screen, as well as a description, the description being a feature that was first implemented in Majora's Mask.
Controls and Gameplay
Most of the original HUD has been moved down to the touch screen, leaving the upper screen mostly clear of graphic overlays. The only part of the HUD still on the top screen is the A Button prompt, which has been redesigned to look transparent. From this bottom screen the player has quick access to their inventory, equipment, and map. The Ocarina is permanently assigned to the bottom-left. The bottom screen can also be tapped to switch between inventory, equipment, and map, making it much easier and quicker to switch between tunics, swords, and boots.[18] The bottom screen has a camera icon that can be tapped to switch to view mode, which can be controlled by using the Circle Pad. The camera can also be controlled by physically moving the 3DS around; for example, if the Nintendo 3DS is held up, Link will look up. The view mode is also used to aim projectile weapons, such as the Fairy Slingshot and Fairy Bow. If the L Button is held, it is possible to slightly look around and increase the viewing window by moving the 3DS; this may have been done to accommodate the smaller 3DS screen. Note that this cannot be done when an enemy is being targeted. Any time Navi wants to give advice, the view icon will be replaced with a Navi icon that can be touched to hear what she has to say, and her name will flash along the bottom of the top screen.[19][18]
Boss Challenge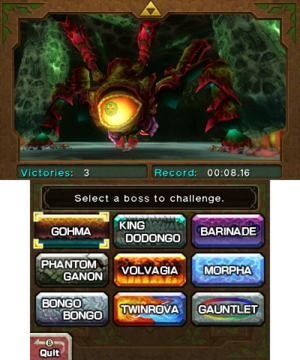 After defeating a boss, Link has the option of battling against it once again after completing the Forest Temple. This can be done by going to his house and approaching his bed to have the option to go to sleep, which allows him to rest up and recover his lost health.[20] From then, Link has the opportunity to fight against any boss he has already beaten.
In this new feature, battles are timed, although they are still played the same. Each time a boss is defeated during the Boss Challenge, the game tallies up the victory and shows how many times that boss has been defeated as well as the record time.
After having defeated every boss once again, the Boss Gauntlet is unlocked. In this mode, Link has to fight through every boss, one after another. At the end of each fight, the young hero is rewarded with a Treasure Chest containing a power-up, such as Deku Nuts or hearts. Throughout the Boss Gauntlet mode, Link can only restore his life between battles by using any of the bottled items he might have with him.
Visions and Sheikah Stones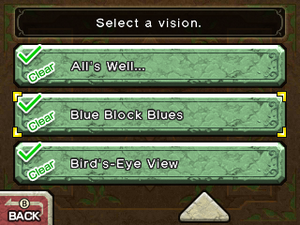 The main quest of Ocarina of Time 3D also implements a variation of the "Super Guide" feature to show players where to go next if they are stuck at a certain point in the game. This feature, which is simply called Visions, are short clips that demonstrate how to advance in the game instead of completing the puzzle directly for the player like in New Super Mario Bros. Wii.[21] These can be accessed via Sheikah Stones, which are larger, more animated versions of the Gossip Stones from the original game.[22] Link has the option to crawl inside these Sheikah Stones to bring up the Visions screen.[23] From here, the player can choose one of the Visions listed and get hints on how to complete the specified puzzle or defeat a boss.
Each Vision will only become available once a certain point in the game has been reached or the player has attempted to solve the puzzle.[24] Once a new Vision is unlocked, it will be labeled in red as "New" on the Visions screen, and it will be replaced with a green checkmark once the Vision has been watched. When the goal shown within the Vision is completed, a green "Clear" will appear next to it in the Vision selection screen.
Other Changes
Places
Temples/Dungeons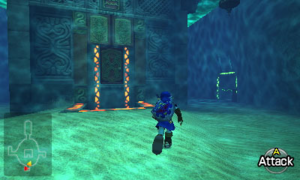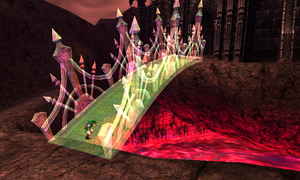 Characters
Items
Master Quest
To unlock The Legend of Zelda: Ocarina of Time 3D Master Quest, the normal quest has to be completed first. Upon doing so, the player will have an option to choose between the normal quest or Master Quest after starting up the game, allowing a second playthrough of the game with redesigned dungeons. This mode has three save files of its own, separately from the normal quest. All upgrades made to the original game apply to Master Quest as well. Additionally, the entire game has been mirrored, similarly to Twilight Princess for the Wii, making Link right-handed as well as flipping the entire overworld map and the dungeons. Link takes twice as much damage, similar to Hero Mode in other games. Visions are not available in this mode.
Miscellaneous
Reception
---
---
Like the original game, Ocarina of Time 3D garnered nearly universal critical acclaim. Official Nintendo Magazine notably gave the game their highest-ever review score of 98%. The game has been commercially successful as well, having sold 5.62 million copies worldwide as of December 2017.[25]
Release Editions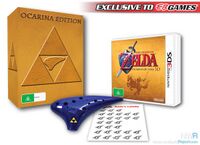 In North America and Europe, a special limited edition Nintendo 3DS bundle was released. It featured a Cosmo Black console marked with the Royal Crest, the Ocarina of Time, the Goddess's Harp, and all letters in gold, plus a copy of the game. A collector's pre-sale box featuring the golden box art and a double sized poster was also included when pre-ordering the game in Europe. In Greece, pre-order bonuses included a green cap, a keychain, a plastic Ocarina of Time replica, a 3DS pouch, a can of Great Deku Tree seeds, and a copy of the game.
In Australia, another limited edition, called Ocarina Edition, was released. It included a copy of the game, a plastic Ocarina of Time replica, song sheets for "Zelda's Lullaby" and "Epona's Song," and a link to download additional song sheets.
Ocarina of Time 3D was re-released as part of the Nintendo Selects line in North America, Europe and Japan in 2016, and in Australia in 2018.[26] In Japan, this edition was later released as a "Double Pack" also containing Fire Emblem Awakening.[27]
Speedrun Records
Category
Runner
Time
Date
Any%
pal62
26m 58s
December 18, 2022
Any% (Glitchless)
gymnast86
3h 41m 27s
April 8, 2022
Any% (Master Quest)
Audiokillers
29m 4s
November 17, 2021
Any% (Master Quest, Glitchless)
Dabombster
3h 38m 49s
October 17, 2018
Any% (New Game+)
pal62
23m 30s
August 9, 2021
100%
gymnast86
4h 8m 58s
Feburary 25, 2019
100% (Master Quest)
Audiokillers
4h 58m 11s
February 3, 2022
All Dungeons
gymnast86
1h 19m 49s
March 20, 2020
All

Dungeons

(Master Quest)
TheWayfaringFox
1h 37m 59s
August 24, 2019
Medallions/Stones/Trials
benstephens56
1h 57m 47s
September 1, 2022
Medallions/Stones/Trials (Master Quest)
—
—
—
Gallery
External Links
References
↑ 1.0 1.1 Iwata Asks - The Legend of Zelda: Ocarina of Time 3D Development Staff - Page 1 , Nintendo, retrieved February 2, 2023.
↑ 2.0 2.1 Encyclopedia, Dark Horse Books, pg. 7
↑ Encyclopedia, Dark Horse Books, pg. 10
↑ Encyclopedia, Dark Horse Books, pg. 236
↑ "Zelda fans, one more thing... We're proud to introduce The Legend of Zelda: Ocarina of Time 3D! #NintE3ndo #E3" — @NintendoAmerica on Twitter, June 15, 2010 (Archive)
↑ "Nintendo has confirmed that Ocarina of Time 3D* will be made available for the Nintendo 3DS during June." — [1] , Nintendo 3DS Blog; retrieved Mar. 5 2011.
↑ "Nintendo of America's just confirmed Legend of Zelda: Ocarina of Time 3D will release on 3DS on June 19 in the US." — [2] , CVG; retrieved Apr. 12 2011.
↑ / GoNintendo - Nintendo reveals Wii/3DS/DS release dates - Wii Play Motion, Mystery Case Files: Dust to Dust, Ocarina and more
↑ "The Navi icon will appear in certain situations. Touch it to receive hints about your quest." (Ocarina of Time 3D manual, [which page?])
↑ "-After you defeat a boss, you can "relive its memory"
-Sleep in Link's bed in Kokiri Forest to do this" — [3] , Nintendo Everything; retrieved May 12 2011.
↑ "These visions are actually pre-recorded snippets of gameplay, each consisting of 3-5 short clips that loosely demonstrate what to do next." — The Legend of Zelda: Ocarina of Time 3D Hands-On (Boss Rush, Water Temple Super-Guide); retrieved May 12 2011 , GameXplain.
↑ "Scattered throughout the environment are Sheikah Stones--a larger and more animated variant of the Gossip Stones of the original. This particular model can be crawled inside in order to receive "visions" of the future." — The Legend of Zelda: Ocarina of Time 3D Hands-On (Boss Rush, Water Temple Super-Guide); retrieved May 12 2011 , GameXplain.
↑ "- Crawl inside the Sheikah Stones to receive "visions" of the future" — The Legend of Zelda: Ocarina of Time 3D details – Sheikah Stones and more; retrieved May 12 2011 , Nintendo Everything.
↑ "- Unlock the visions as you reach certain points in the game" — The Legend of Zelda: Ocarina of Time 3D details – Sheikah Stones and more; retrieved May 12 2011 , Nintendo Everything.
↑ "The Legend of Zelda: Ocarina of Time 3D


+64




562

" — Nintendo, Nine Months Financial Results Briefing for Fiscal Year Ending March 2018 , Nintendo Co., Ltd.: Investor Relations Information (Archive), published February 1, 2018, retrieved February 10, 2018.
↑ Nintendo Selects , Wikipedia, retrieved June 14, 2021.
↑ Nintendo offering three new 3DS double packs for the Japanese market , GoNintendo, published November 23, 2017, retrieved June 14, 2021.