Deku Link
Jump to navigation
Jump to search
Deku Link is one of the forms Link turns into in Majora's Mask.[1] Link is transformed into this form at the beginning of the game, and he can later transform at will by wearing the Deku Mask. It is one of four mask transformations in the game.
Transformation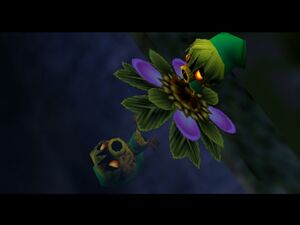 After stumbling through the Lost Woods in pursuit of the Skull Kid, Link falls through a large hole leading to the parallel world of Termina. At the end of the hole, Link finds Skull Kid wearing the Majora's Mask. He eerily laughs and transforms Link into a Deku Scrub.[2]Link tries to chase after the Skull Kid but is stopped by Tatl. He then leaves through the door along with Tatl catching up to him. She agrees to be his partner until they catch the Skull Kid. The Happy Mask Salesman later finds Link and informs him that he can be returned to his original form if the instrument stolen from him, the Ocarina of Time, is retrieved. Link accepts the quest and explores Clock Town over the course of three days and, after interacting with various townsfolk, manages to confront the Skull Kid atop the Clock Tower. He quickly uses a Bubble Blast to knock the Ocarina out of Skull Kid's hands, scoops it up, and begins to play. Link's Deku form causes the Ocarina of Time to appear as the Deku Pipes.[3] Undeterred, Link plays the "Song of Time" to travel back in time to the first day.
He then presents the recovered instrument to the Happy Mask Salesman, who teaches Link the "Song of Healing." The magical properties of this song ease Link's soul, and he returns to his human form. The eradication of the curse causes the Deku Mask to materialize, granting Link the ability to transform into a Deku Scrub at will when worn. Link then starts his quest to find a way to retrieve the Majora's Mask that is manipulating the Moon to crash into Termina.
Link's new form is required while he is exploring the Southern Swamp. With it, he can hop across the toxic water, infiltrate the Deku Palace, reveal the entrance to Woodfall Temple, and explore and conquer the temple itself.
Deku Link is the incarnation of the Deku Butler's Son, who was turned into a tree while hunting for mushrooms in the forest,[4] possibly as a curse by the possessed Skull Kid.[5][6]
Abilities
While in Deku Link form, Link gains many unique abilities which can be used to fight enemies and to solve puzzles. These abilities prove invaluable in several locations throughout Termina.
Water Hopping
Deku Link is incapable of swimming, and thus instead travels on the surface of bodies of water through a series of hops. He can bounce up to five times on a water's surface, with the fifth bounce significantly higher than the previous four. If Deku Link falls into the water after the fifth bounce, he will sink and reemerge back onto the ground. This ability prevents Deku Link from being damaged by Poison Pool or from being affected by the speed or direction of the current. This ability is primarily employed in areas with Poison Pool, such as the Southern Swamp and the Woodfall Temple. In Majora's Mask 3D, Deku Link requires extra speed to hop farther before performing a Spin Attack.
Unlike normal Link, Deku Link can stand on Link-Eating Plants.
Deku Flower flight
By burrowing into a Deku Flower, Deku Link can launch himself into the air in brief flight and drop Deku Nuts onto enemies.[7] The elevation and duration of the flight varies from flower to flower, though any flight can be extended if Deku Link passes through a powerful air stream. As well as granting Link access to previously inaccessible areas, launching from a Deku Flower is also a powerful attack move. This is necessary to defeat enemies such as Snappers, and can also be used to defeat the boss of the Woodfall Temple, Odolwa.
Bubble Blast
This power is granted to Deku Link after he restores the body of the Great Fairy in North Clock Town. It allows Link to release powerful bubbles at the expense of draining the Magic Meter.[8] This attack is useful in breaking airborne objects and defeating flying enemies. The disadvantage is that the range is inefficient compared to that of Arrows. In Majora's Mask 3D, a sight was added when going into first-person perspective. Also, the bubble does not burst if charged for too long, its charging time is decreased, and it travels faster in a straight line, making it more reliable to defeat some enemies.
Spin Attack
By tapping the A-Button while moving, Deku Link will twirl on one foot at an accelerated pace. This spin can stun enemies and break weak objects such as pots, although it is rarely powerful enough to defeat an enemy. In Majora's Mask 3D, the tip of Deku Link's hat transforms into a root when using the Spin Attack.
Deku Shield
Deku Link possesses a unique Shield in the form of a large Deku Nut husk. It is similar to Goron Link's shield in that it renders Link immobile, but is also impervious to most attacks from any direction (excluding fire-based attacks). This defense is reminiscent of Young Link's attempt to use the Hylian Shield in Ocarina of Time.
Other Abilities
Due to Deku Link's small size, he is able to stand on Lily Pads without them sinking below him. This ability makes the exploration of Poison Pool in the Southern Swamp possible. However, this ability also makes it impossible for Deku Link to press down most Floor Switches. His small size also makes him too short to grab and climb onto most ledges.
As Deku Link is made of wood, he is especially vulnerable to fire-based attacks. Mere contact with a flame of any sort will typically be enough to instantly knock him out, and he reemerges from where he last entered the area.
Instrument

While in Deku form, Link's Ocarina of Time takes the form of the Deku Pipes. This instrument is known for its high volume.[9] It is required to play the "Sonata of Awakening" with maximum effect.
The Deku Pipes are primarily used to raise the Woodfall Temple from the swamp, granting access to it.
Other Appearances
Super Smash Bros. Brawl
Deku Link appears as a Sticker in Super Smash Bros. Brawl.
Super Smash Bros. Ultimate
Deku Link — Spirit Battle Information
Deku Link
Primary Spirit
No. 207
Team Power
Grab | 3700
Rank
★★ ADVANCED
Fighter(s)
Stage
Garden of Hope (Battlefield)
Theme
"

Saria's Theme

"
Diddy Kong
Rule(s)
Item Tidal Wave
Item: Lip's Stick
Hazard(s)
—
Condition(s)

 •

The enemy favors neutral specials


 •

Certain items will appear in large numbers after a little while


 •

The enemy is easily distracted by items
In Super Smash Bros. Ultimate, Deku Link appears as a Spirit with the ability, Fire Weakness, which makes a Fighter take more damage from Fire attacks..
Trivia
Toward the beginning of Majora's Mask,

Deku Link

briefly breaks the

fourth wall

when, incredulous at Tatl's sudden change of heart, he turns toward the player, shakes his head and shrugs.
Despite Link being left-handed, when Deku Link opens Treasure Chests, he lifts their contents with his right hand.
Deku Link is the only one of Link's transformations in the game (excluding the Fierce Deity Link) that cannot press down a floor switch, making his "Elegy of Emptiness" statue useless.
While thinking in an event for the Deku, Eiji Aonuma had a dream about being chased by one. The next day, Takumi Kawagoe showed him a movie he created for the Deku which was exactly as Aouma's dream.[10] This scene was later used when Link is transformed into a Deku by Skull Kid.
Nomenclature
Names in Other Regions
Language
Name
Meaning
Italian
Link Deku (

MM3D

)
Deku Link
Gallery
References