Adlar
Jump to navigation
Jump to search
Adlar is a character in Oracle of Ages.[2][3]
Biography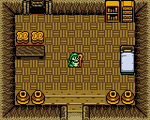 Adlar lives in a House in Lynna Village in the past, on the west side of the river that flows through town. He was the adviser to Queen Ambi for 50 years,[1] as well as her friend from the time she was a child.[4] However, when the Nayru possessed by Veran arrived, Queen Ambi stopped listening to his advice.[5] Shortly after, Nayru suggested that Adlar be banished,[6] and he was chased from the palace.[1] He gives Link helpful advice when he first visits the village, and wishes him well on his quest, as he understands that something is wrong.[7]
Nomenclature
Other Names
These names, though from official English sources, are not considered
Canon
by Zelda Wiki as they contradict a name or names from a
higher-priority source
.
| | |
| --- | --- |
| Name | |
| Applies to | |
| Source | |
| Superseded by | |
| Name | Applies to | Source | Superseded by |
| --- | --- | --- | --- |
| | | | |
See Also
References
↑ 1.0 1.1 1.2 "For fifty years, I was a palace advisor, but I have since been chased from the palace and am now retired." — Adlar (Oracle of Ages)
↑ Encyclopedia, Dark Horse Books, pg. 254
↑ "I am

Adlar

." — Adlar (Oracle of Ages)
↑ "I have known the Queen since she was young." — Adlar (Oracle of Ages)
↑ "She always held the people foremost in her heart. But since she took that girl Nayru in, she has changed completely... She quit listening to my advice." — Adlar (Oracle of Ages)
↑ "It was that girl who suggested I be banished, but..." — Adlar (Oracle of Ages)
↑ "Just who is this

Nayru

..? I can only see her as a monster in human guise. I wonder if the Queen is all right..." — Adlar (Oracle of Ages)
↑ "Sono

Adlar

." — Adlar (Oracle of Ages, Italian localization)
↑ "I am

Adlar

." — Adlar (Oracle of Ages, British English localization)
↑ "Ich bin

Adlar

." — Adlar (Oracle of Ages, German localization)
↑ "Je suis

Adlar

." — Adlar (Oracle of Ages, European French localization)
↑ "ワシは

アーダラ

" — Adlar (Oracle of Ages, Japanese localization)
↑ "Soy

Adlar

." — Adlar (Oracle of Ages, European Spanish localization)
↑ "

Ancient Adler's House

" — Map (Oracle of Ages)