King Rhoam
Jump to navigation
Jump to search
King Rhoam Bosphoramus Hyrule is a recurring character in The Legend of Zelda series.[10][11][12] He is the former king of Hyrule and the first person that Link encounters after awakening in the Shrine of Resurrection, under the guise of a simple Old Man.
Biography
Breath of the Wild
King Rhoam was once the king of Hyrule Kingdom and the father of Zelda, one century prior to Link's awakening in the Shrine of Resurrection. Most of the information on King Rhoam's life is detailed in King Rhoam's Journal and in Recovered Memories.
When his daughter was born, King Rhoam decided to name her Zelda, as is the tradition of the Royal Family of Hyrule.[13] Following such an occasion, he decided to begin writing down his life story.[14]
Prior to the second Great Calamity, a fortune teller predicted the revival of Calamity Ganon, so King Rhoam ordered the excavations that uncovered the Guardians and the Divine Beasts.[15][16] As more Ancient Technology was revealed, King Rhoam became certain that the prediction would come true.[17] While he was concerned that investigating the relics would take time, he noticed that Zelda displayed an interest in research.[18] During this process, King Rhoam learned about about a princess with a sacred power and her appointed knight who was chosen by the Master Sword.[19] With the power of the Guardians and the Divine Beasts, they were able to seal Calamity Ganon.[20]
When Zelda was six years old, King Rhoam's wife, the Queen of Hyrule, unexpectedly died.[7] Even when she was alone with King Rhoam, Zelda never cried, which King Rhoam assumed was because he taught her to be a valiant and steady princess.[21] Witnessing her strength gave King Rhoam hope that he would be able to raise her on his own and prepare her for the future.[22] Afterwards, he pushed Zelda to unlock her sealing power, though he believed her to be held back by her grief for her mother.[23] King Rhoam wanted to let her wait until she was ready, but since Calamity Ganon's revival was imminent, he ordered her to keep training.[24]
In preparation for Calamity Ganon's return, King Rhoam appointed four skilled individuals, known as Champions, to pilot the Divine Beasts.[25] In "The Champions' Ballad" Recovered Memory, which is exclusive to The Champions' Ballad DLC Pack, King Rhoam presides over the inauguration of the Champions.[26] He officially bestows their sacred garb to them, including Link's Champion's Tunic.[27] He continues, explaining that the blue color is representative of the Royal Family of Hyrule, and it has been passed down for generations.[28] King Rhoam reveals that the garments were crafted by Zelda, whom he reminds of her duty as a daughter of the Royal Family.[29] He instructs her to lead the Champions and protect Hyrule from Calamity Ganon.[30]
In "Father and Daughter," King Rhoam comes upon Zelda and Link on the bridge between her study and room.[31] Zelda admits to assessing the results of the Guardian experiments and begins to explain their usefulness,[32] but King Rhoam interrupts her to say that he already knows this.[33] He reminds Zelda that she has a duty as a princess that she has yet to fulfill.[34] King Rhoam asks Zelda when she is going to stop treating awakening her power as a childish game.[35] He claims that Zelda is wasting her time, as she needs to dedicate every moment to unlocking her power.[36]
King Rhoam refuses to accept any more excuses from Zelda.[37] He accuses her of running away from her duty, and as a result forbids her from researching Ancient Technology.[38] Overlooking the Hyrule Castle Courtyard, King Rhoam reveals that, among the gossip mongers, she is known as an heir to a throne of failure.[39] He informs her that it is her destiny to prove them wrong.[40] After assuring that Zelda understands, he returns to the interior of Hyrule Castle.[41][42]
Later, King Rhoam would reflect on this encounter in his Journal.[43] He claimed that the reason that Zelda's power had not awakened yet was due to her playing at being a scholar.[44] However, he admitted to understanding her struggles, as she had been left without any guidance on her powers for 10 years.[45] Not only did those in Hyrule Castle talk behind her back, King Rhoam recognized that scolding her only drove her to hide away in her research.[46] Even if it meant she would hate him, King Rhoam resolved to keep pushing her to fulfill her duty.[47]
While Zelda was at the Spring of Wisdom, King Rhoam wrote that it would likely be her last chance.[48] In the event that she would yet again fail to unlock her powers, King Rhoam planned on welcoming her back kindly.[49] After 10 years of training, he could now see that her powers would awaken in some other way.[50] He even considered encouraging her research into Ancient Technology in the hope that it could give her the answers he was unable to.[51] As he wrote, he anxiously awaited his daughter's return.[52] Before he could express his guilt to his daughter, however, Calamity Ganon awakened, destroying Hyrule Castle Town and killing King Rhoam.[53][54] He was buried in the King's Tomb,[55] and, since then, has remained on the Great Plateau in the form of a Spirit.[5]
Following Link's resurrection, King Rhoam assumes the persona of an Old Man living alone atop the Great Plateau. When Link first meets the Old Man, he is seen camping in an alcove just east of the entrance of the Shrine of Resurrection. The Old Man follows Link throughout "The Isolated Plateau" Main Quest. He repeatedly exhibits a knowledge of the Sheikah Slate's capabilities as well as Sheikah culture and technology.[56] He requests that Link bring him the Spirit Orbs from within the Ancient Shrines in exchange for his Paraglider, the means of escaping the Great Plateau.[57]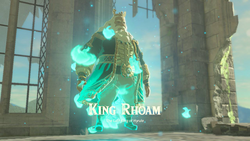 After Link obtains all four Spirit Orbs on the Great Plateau, the Old Man will meet Link outside of the final Ancient Shrine. There, he promises to tell Link the truth about who he is, asking for Link to meet him at the spot where the four Ancient Shrines intersect before mysteriously fading away.[58] The location at the intersection of the four Ancient Shrines is the Temple of Time, where Link can pray to the Goddess Statue to receive either a Heart Container or a Stamina Vessel. Upon doing so, the Old Man will speak to Link from the rooftop of the Temple of Time, urging him meet him there.[59] Once Link enters the rooftop tower of the Temple of Time, the Old Man will congratulate him on his progress and announce that he will tell Link his true identity.[60] Here, the Old Man reveals to Link that he was King Rhoam, the leader of the former Kingdom of Hyrule.[10] As he does so, the Old Man begins to shine brightly and assume his true form as King Rhoam.
King Rhoam reveals to Link that he lost his life during the Great Calamity.[54] He explains that he chose not to bear his true form while Link's memories were still fragile so as not to overwhelm him.[61] He asks Link to forgive him for this deception.[62] Now, though, he believes that Link is ready to hear what happened 100 years ago.[63]
King Rhoam shares the events leading up to the Great Calamity with Link. At the end of the story, he admits that the princess he spoke of was his own daughter, Zelda.[8] He also reveals to Link that he was her knight, but he was defeated while trying to protect her.[64] As a result, Link was taken to the Shrine of Resurrection, which brought him back after 100 years.[65] King Rhoam informs Link that the voice he has been hearing since he woke up was that of Zelda.[66]
Zelda remains in Hyrule Castle, where she calls out for Link's help.[67] King Rhoam warns Link that Zelda's power is draining and will soon be unable to restrain Calamity Ganon.[68] King Rhoam feels guilty since he was not able to save Hyrule, but he still asks Link to save Zelda and destroy Calamity Ganon.[69]
In the century since the Great Calamity, Ganon has managed to keep his control over the Divine Beasts and the Guardians.[70] As it would be reckless for Link to go directly to Hyrule Castle, King Rhoam suggests that he make his way to Kakariko Village.[71] Once there, King Rhoam instructs him to meet with the elder, Impa, who will be able to tell him more about his task.[72] He tells Link to use the Map on the Sheikah Slate to find its exact location, though he still gives him directions to go west after he passes through the Dueling Peaks.[73]
King Rhoam then grants Link the Paraglider, fulfilling his promise to allow Link to safely leave the Great Plateau.[74] Receiving this officially completes "The Isolated Plateau." He believes that Link will now be able to safely descend from the cliffs of the Great Plateau.[75] Having served his duty, King Rhoam bids Link farewell and fades away.[76] Once he is gone, Link will receive the "Seek Out Impa" and "Destroy Ganon" Main Quests.
Once King Rhoam disappears, a new entry will appear in The Old Man's Diary. Within, he apologizes for deceiving Link, admitting that he did not know how to tell him the truth.[77] Despite acknowledging it was wrong of him, he still claims to have put on a good performance.[78] He then repeats his request for Link to defeat Calamity Ganon and save Zelda.[79] Though he knows it will be difficult, he believes that Link can do it, recalling that he sees the same courage in his eyes that was there 100 years ago.[80]
After Link and Zelda eradicate Calamity Ganon, King Rhoam and the Champions are seen floating above Hyrule Castle. They disappear before the pair turns to face them.
Tears of the Kingdom
While Zelda and Link are exploring Beneath Hyrule Castle, she recalls that when she was a child, she once asked King Rhoam if there was anything below Hyrule Castle.[81] In response, he told her that there was, though the Royal Family of Hyrule had been forbidden from seeing or discussing it for generations.[82][83] Later on, during the "Where Am I?" Memory, Zelda introduces herself as the daughter of King Rhoam.[11]
Other Appearances
Hyrule Warriors: Age of Calamity
King Rhoam retroactively debuted in Hyrule Warriors: Age of Calamity, where he is seen readying the Hylian army into battle. He reminds Zelda to focus on her duty of awakening her powers, rather than studying the Guardians and Divine Beasts. He is also seen with a sword during the fight against their own Guardians, which Calamity Ganon recruited to his side by corrupting them.
King Rhoam is thought to have died from the blast of Guardian lasers, but it was really Rhoam himself who used the device called the Ancient Guardian Shield, given to him by Zelda. This turned the tables on the Guardians, and the Royal Guards were able to retreat from Hyrule Castle. He is later unlocked as a playable character, where he is able to switch to his old man guise in battle to change to a different move set.
Trivia
Nomenclature
Names in Other Regions
Language
Names
King Rhoam (

BotW

)

ハイラル王 (

BotW

)
ローム・ボスフォレームス・ハイラル (Rōmu Bosuforēmusu Hairaru) (

BotW

)

海拉魯國王 (Hǎilālǔguówáng) (

BotW

)
海拉鲁国王 (Hǎilālǔguówáng) (

BotW

)
Koning Rhoam (

BotW

|

HWAoC

)[85]
Rhoam Bosphoramus (

BotW

)
Rhoam Bosphoramus (

BotW

|

HWAoC

)[84]

König Rhoam (

BotW

)
Köning Rhoam (

HWAoC

)[86]

Re di Hyrule (

BotW

)
Rey de Hyrule (

BotW

)
Rey Rhoam (

BotW

)
This table was generated using translation pages.
To request an addition, please contact a staff member with a reference.
Gallery
See Also
References