Demon King Ganondorf
Jump to navigation
Jump to search
Demon King Ganondorf is the main antagonist and Final Boss of Tears of the Kingdom.[6]
Biography
Demon King Ganondorf is the form assumed by Ganondorf after obtaining his Secret Stone, stolen from Sonia.[7]
After becoming the Demon King, he created a swarm of Monsters and attacked Hyrule Kingdom and its allies,[8] which started the Imprisoning War. At the end of the War, the Six Sages confronted him. However, Ganondorf's overwhelming power made the Sage of Wind unable to slip past his defenses,[9] the Sage of Fire's strongest blows unable to break him,[10] the Sage of Water's strongest defenses unable to stop his attacks,[11] and he endured the Sage of Lightning's Lightning strikes.[12] After Mineru fell ill to Ganondorf's Gloom and the rest of the Six Sages were exhausted, Ganondorf was caught off-guard by King Rauru, who sacrificed himself to seal the Demon King in the Imprisoning Chamber, binding his heart and stealing his Magic.[13] Ganondorf was intrigued of the coming of Link, wielder of the Sword that Seals the Darkness who Rauru spoke of shortly before the seal's Magic was complete.[14] After the seal was cast, Hyrule Castle was built to keep the Imprisoning Chamber undisturbed.[15]
Although Ganondorf remained sealed Beneath Hyrule Castle, according to King Rhoam and Impa, Calamity Ganon was originally the "Demon King" born in the distant past who resurrected and transformed into a being made of pure Malice and hatred manifest.[16][17][18] Beyond this, the exact nature of the relationship between the imprisoned Ganondorf and Calamity Ganon as distinct entities is unclear.
After thousands of years, the seal's Magic weakened due to the damage done to Hyrule Castle from the most recent Great Calamity.[5] This led to Ganondorf's power steadily increasing.[5] His Gloom began to seep from Beneath Hyrule Castle, making people who came across it sick.[19] Zelda and Link went to investigate the Gloom and discovered Ganondorf's mummified body. When they approached the body, Rauru's Right Arm and Secret Stone fell down, awakening Ganondorf. He injures Link's Right Arm and shatters the Master Sword with his Gloom. He is disappointed by the capabilities of the Master Sword, Zelda, and Link and uses his Gloom to cause an Upheaval in Hyrule.[20] As Hyrule Castle rises, the platform he was sealed in begins to collapse, making him fall to the bottom of the Depths of Hyrule.
He uses Phantom Ganon disguised as Zelda to send several Hyruleans into confusion and mislead Link throughout his journey.[21] Four of his Servants are also sent to cause the Regional Phenomena. After Link clears the four Temples, Ganondorf uses his Phantom Ganon disguised as Zelda once more to lead Link into Hyrule Castle's Sanctum, where Ganondorf reveals the true form of the impostor Zelda and sends Phantom Ganon to end Link's life.[22] After Link defeats Phantom Ganon, Ganondorf notices that there is more to Link's powers than Rauru's Right Arm has gifted, he dissolves Phantom Ganon into tendrils of Gloom but the Six Sages defend Link from them. Ganondorf is surprised that the Six Sages don't recognize him, noting that there's limits to the knowledge that Secret Stones give.[23] He gives the Six Sages and Link a vision of him and his army from the past, saying that the world will be like this once more when his power will be restored.[24] He then tells them that they can only await the inevitable end and vanishes.[25] He later uses his Gloom to possess a Construct in the Spirit Temple to use it as a pawn against Link and Mineru.[26]
Upon meeting Link in Gloom's Origin in the Central Hyrule Depths after the hero faced his Army within Gloom's Lair, Ganondorf expresses his disappointment that the world is not yet covered in Darkness and that those he deems as weak still remain.[27] He then slams his fist down, transforming into a more healthy version of himself, vowing to reshape the world and act as its uncontested king.[28]
After battling Link in his Gerudo form, Ganondorf revels in the feeling of battle without even using his full power.[29] He further envelops himself in Gloom and takes his second, demonic form, taunting Link in certainty that he will kill him.[30] When the Demon King's second form is ultimately defeated by Link, he refuses to give up his goal of ruling the world in Darkness and swallows his Secret Stone,[31] becoming the Demon Dragon.[32]
Characteristics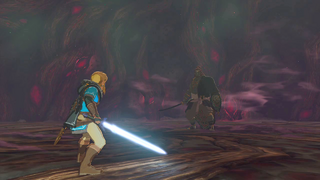 The Menace Unleashed: Demon King Ganondorf is the first phase of the Final Boss. He takes on his original Gerudo form. Similar to Phantom Ganon, Demon King Ganondorf masters most Weapon types. He starts out the fight with a Gloom Sword, but during the battle he can switch his Weapon to a Gloom Spear, Gloom Club or Demon King's Bow. If any of the Weapons hit Link, then his Hearts temporarily get reduced by the Gloom. In certain attacks, Demon King Ganondorf's blasts of Gloom can reduce Link's number of Hearts permanently for the fight if Link gets hit by them (mainly the Gloom projectiles from the bow and the 3 sparks from the Club).[note 1] However, if Link has the Master Sword, it can be used to reflect the orbs of Gloom. Ganondorf also has the ability to Perfect Dodge (including when Link parries with a shield) and Flurry Rush. He's also capable of knocking the arrows away if Link attempt to repeatedly shoot arrows at his head while not using the bow while airborne. After his health is depleted, he comments on how he had forgotten the thrill of battle and hadn't even reached the limits of his power,[29] he proceeds to use the power of his Secret Stone to transform into the more demonic form that he had during the Imprisoning War and increases his health to twice the amount he had previously. After the transformation, he tells Link that he will take far more than his Right Arm this time.[30]
Master of the Secret Stone: Demon King Ganondorf, also known as Demon King Ganondorf (2nd Form),[33] is the second phase of the fight. In this phase, he is stronger, faster and he has created four Phantom Ganons to accompany him. If Link has made a vow with each Sage, then they will join this part of the battle to fight the Phantom Ganons and the Demon King himself. When his health is reduced by half, he will absorb the Gloom of each Phantom Ganon to make himself even stronger, the Sages get blasted unconscious by Ganondorf's Gloom, being unable to help Link during this portion of the fight. His abilities to Perfect Dodge and Flurry Rush have intensified. Link cannot start a Flurry Rush after his first Perfect Dodge against Ganondorf as he would Dodge that as well. Ganondorf also uses Gloom-based attacks more frequently in his second form.
Upon the defeat of his second form, Demon King Ganondorf will swallow his Secret Stone and transform into the Demon Dragon, carrying Link into another, final battle in the sky with the Light Dragon.[32]
Trivia
Demon King Ganondorf

is the only

Boss

of Tears of the Kingdom who gets more than one entry in the Hyrule Compendium.

Demon King Ganondorf

absorbing the

Gloom

of the

Phantom Ganons

to get stronger is reminiscent of the Malice gauge of Calamity Ganon's in Hyrule Warriors: Age of Calamity, which enables him to absorb all the Malice he spread to go into his Calamity Form when the gauge is filled.
Nomenclature
Demon King Ganondorf
Demon King Ganondorf (2nd Form)
Names in Other Regions
Language
Names
Meanings
魔王ガノンドロフ (Maō Ganondorofu)
 
魔王加儂多夫 (Mówáng Jiānóngduōfū)
 
魔王加侬多夫 (Mówáng Jiānóngduōfū)
 

Demonenkoning Ganondorf
Herrezen uit de verzegeling

Demon King Ganondorf
Risen from the Seal

Ganondorf, roi démon
 
Ganondorf, roi démon
 
Dämonenkönig Ganondorf
 
Re dei demoni Ganondorf
 
마왕 가논돌프 (Mawang Ganondolpeu)
 
Ganondorf, el rey demonio[34]
 
Ganondorf, el rey demonio[35]
 
This table was generated using translation pages.
To request an addition, please contact a staff member with a reference.
Names in Other Regions
Language
Names
魔王ガノンドロフ(第二形態) (Maō Ganondorofu (Dainikeitai))
魔王加儂多夫(第二形態) (Mówáng Jiānóngduōfū (Dìèr Xíngtài))
魔王加侬多夫(第二形态) (Mówáng Jiānóngduōfū (Dìèr Xíngtài))
Demonenkoning Ganondorf (2e vorm)
Ganondorf, roi démon (2ͤ forme)
Ganondorf, roi démon (2ͤ forme)
Dämonenkönig Ganondorf (2. Form)
Re dei demoni Ganondorf (forma 2)
마왕 가논돌프(제2형태) (Mawang Ganondolpeu(je2hyeongtae))
Ganondorf, el rey demonio (2.ª forma)[36]
Ganondorf, el rey demonio (2.ª forma)[37]
This table was generated using translation pages.
To request an addition, please contact a staff member with a reference.
Gallery
See Also
Notes
↑

Link

's number of

Hearts

get restored from its reduction and

Gloom

entirely for the battle against

Demon Dragon

, though they are not automatically filled.
References