Dark Beast Ganon
Jump to navigation
Jump to search
Dark Beast Ganon is a recurring boss in The Legend of Zelda series.[3]
Characteristics
Twilight Princess
According to Encyclopedia, Dark Beast: Ganon is also referred to as Dark Beast Ganon.[4]
Breath of the Wild
161 (

166

) Dark Beast Ganon


After Ganon was defeated by Link, the remaining Malice pulled itself together to form this bestial creature. Its appearance and fiendish magic earned it the name of Dark Beast. This form is considered to be Ganon's original, although in this state, his awareness has been consumed entirely by Malice, and all he knows is a desire to rampage and destroy.
Hyrule Field
None
Hatred and Malice Incarnate: Dark Beast Ganon is the final boss of Breath of the Wild. He is a gigantic, porcine beast covered by Malice and is the purest form of Ganon's rage. Dark Beast Ganon is fought in Hyrule Field after Link defeats Calamity Ganon in Hyrule Castle's Astral Observatory. Following his defeat, Calamity Ganon flees to Hyrule Field where he sheds his mortal form and abandons his attempt to reincarnate as Calamity Ganon in exchange for power,[5] drawing from all of his Malice. Princess Zelda transports Link beside his Horse to engage Dark Beast Ganon in combat, offering up the only unbreakable weapon to repel him, the Bow of Light.[6][7] Despite this, it is possible to damage Ganon with the Twilight Bow, Ancient Arrows, or from Sword Beams from the Master Sword.
After the battle begins, Dark Beast Ganon will fire a beam of dark energy from his mouth towards Link, dealing 72 base damage. Princess Zelda will warn Link that the Malice encasing Dark Beast Ganon's body renders any attacks on him useless,[8] so she plans to use her power to hold the Malice back, opening parts of Ganon's body to attack.[9] She does so by manifesting various sigils of light on numerous spots of Dark Beast Ganon's body, encouraging Link to attack when she does so and reporting successful hits.[10][11] These sigils initially appear on Ganon's shoulder, ribs and thigh on either side of his body. If Link takes too long, Princess Zelda will be unable to hold back the Malice and the magical circles will disappear until she regains enough strength to try again.[12][13][14]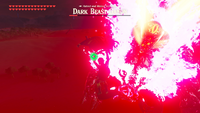 After Link has successfully struck Dark Beast Ganon six times, a sigil will appear on Ganon's stomach.[15] When this magical circle has been struck, Dark Beast Ganon will expose the core of his being: a gigantic eyeball located on his nape.[16] During this period, the sky will turn red, akin to a Blood Moon. To reach his core, Link must use the updrafts created by Ganon's dark energy beams, or Revali's Gale to become level with it. As Link draws the Bow of Light, Princess Zelda will urge Link to deliver the final blow.[17][2]
Upon the final blow being delivered, Princess Zelda will escape from Dark Beast Ganon's core and glow with a holy light, stripping Ganon of his corporeal form and returning him to his ethereal state. In his desperation, Ganon attempts to attack Princess Zelda, only to be driven back and engulfed by a sphere of golden light that destroys him.[18]
Other Appearances
Hyrule Warriors
In certain Adventure Mode Battles, Ganon is also known as Dark Beast Ganon during his introductory cutscene. Dark Beast Ganon is identical in every respect to his Legend Mode counterpart. In Battle A6 of the Adventure Map, along with every other Map that has a final battle with Ganon, the credits sequence will begin to play immediately upon Dark Beast Ganon's defeat.
Nomenclature
Names in Other Regions
Language
Names
Meanings
魔獣 ガノン (Majū Ganon)[20]
Demon Beast Ganon
魔獸 加儂 (Móshòu Jiānóng)
 
魔兽 盖侬 (Móshòu Gàinóng)
 
Demon-Ganon[22]
 
Ganon, créature maléfique[21]
 
Ganon, créature maléfique[21]
Ganon, evil creature
Dämonenbestie Ganon[24]
 
Ganon, bestia delle tenebre[19]
 
마수 가논 (Masu Ganon)
 
Чудище Тьмы Ганон (Chudishche Tʹmy Ganon)[23]
 
Ganon, bestia de las tinieblas[25]
 
Ganon, bestia de las tinieblas[25]
 
This table was generated using translation pages.
To request an addition, please contact a staff member with a reference.
Gallery
See Also
References