Kholdstare
Jump to navigation
Jump to search
Kholdstare,(ALttP | ALttP (Himekawa))[2][1] also known as Kholdstone,(ALttP (Ishinomori))[3] is a recurring Boss and character in The Legend of Zelda series.[name references needed]
Characteristics
A Link to the Past
Kholdstare is the Boss of the Ice Palace in the Dark World. Resembling a cyclopean cloud, Kholdstare hails blocks of Ice from the Palace's ceiling down at Link that sometimes shatter into Magical Decanters when Link's Magic Meter is empty.[4] He must use caution while battling the creature, due to the low friction of the Icy floor. The young hero can use either the Fire Rod or the Bombos Medallion to break its Ice shield.[5][6] The latter is faster, as it destroys the Ice shield in only one hit. Once the shield melts, Kholdstare splits into three identical parts that can be hit with the Fire Rod or the Fighter's Sword.[4][7] Upon defeating Kholdstare, Link receives another Heart Container and the Crystal containing the fifth imprisoned Maiden.[8]
Other Appearances
A Link to the Past (Ishinomori)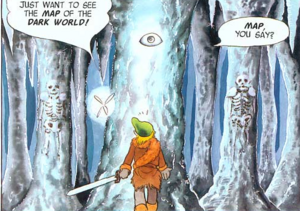 Kholdstone appears in Chapter 10 of the A Link to the Past comic by Shotaro Ishinomori. During Link's search for a Map of the Dark World, the young hero travels to the Ice Tower, where he is confronted by Kholdstone. Link states that all he wants is to see the Map of the Dark World,[9] but Kholdstone tells him that the Map is its greatest treasure and it will not let anyone see it.[3] The monster unleashes two Stalfos to attack Link, but when the young hero sees that they keep respawning even after defeating them, he begins to focus his power on the Master Sword,[10] which causes the Tower to begin to collapse. Kholdstone warns Link that if he destroys the Tower, then he will destroy the Map as well, making Link realize that the Map is etched on the Tower's floor.[11][12] However, the Ice Tower collapses shortly after, presumably killing Kholdstone.
Ancient Stone Tablets
A Link to the Past (Himekawa)
Trivia
Nomenclature
Kholdstare is a portmanteau of cold and stare.
Gallery
See Also
References
↑ 1.0 1.1 "At the Ice Palace, they encountered Kholdstare, who was encased in ice but able to freeze everything with his breath." (A Link to the Past manga, VIZ Media, pg. 336)
↑ Encyclopedia, Dark Horse Books, pg. 187 (

ALttP

)
↑ 3.0 3.1 "This map you speak of is Kholdstone's greatest treasure! I will never let you gaze upon it! Arise, Stalfos! Destroy him!" (A Link to the Past manga, VIZ Media, pg. 6)
↑ 4.0 4.1 "The boss of the Ice Palace in A Link to the Past resembles a cloud with a single eye. Initially, it is wrapped in ice to protect itself and Link must use fire to melt the barrier. After the ice is melted, it will split into three and attack." (Encyclopedia, Dark Horse Books, pg. 187)
↑ "Warm things up with the Fire Rod. Eight blasts will melt the ice block and release Kholdstare." (The Legend of Zelda: A Link to the Past — Nintendo Player's Guide, Nintendo of America, pg. 156)
↑ "Use the Bombos spell to do some initial damage in Kholdstare's lair, then use the Fire Rod to continue your assault against the eyeballs." (The Legend of Zelda: A Link to the Past & Four Swords — Prima's Official Strategy Guide, Prima Games, pg. 73)
↑ "Each part of Kholdstare's body must be defeated." (The Legend of Zelda: A Link to the Past — Nintendo Player's Guide, Nintendo of America, pg. 156)
↑ "Keep moving to avoid the ice balls and to get the fifth Crystal." (The Legend of Zelda: A Link to the Past — Nintendo Player's Guide, Nintendo of America, pg. 156)
↑ "I don't want any trouble! I just want to see the map of the Dark World!" (A Link to the Past manga, VIZ Media, pg. 5)
↑ "It's impossible to keep them down! Aaaargh!! I've had enough!" (A Link to the Past manga, VIZ Media, pg. 7)
↑ "You've got quite a temper... If you bring the place down, you will destroy the map also! [...] Look down, fool!" (A Link to the Past manga, VIZ Media, pg. 8)
↑ "Ah...the floor is the map?! Now...where's Turtle Rock?!" (A Link to the Past manga, VIZ Media, pg. 8)
↑ The Legend of Zelda: A Link to the Past (SNES), The Cutting Room Floor, published November 27, 2012, retrieved January 16, 2014.
↑ "Augenfrost" — Credits (A Link to the Past, Italian localization)
↑ Nintendo Official Guidebook—The Legend of Zelda: A Link to the Past Vol. 2, Shogakukan, pg. 148