Anju's Mother
Jump to navigation
Jump to search
Anju's Mother is a character in Majora's Mask.[1]
Biography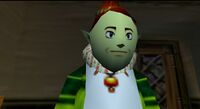 When Anju's Mother hears that Kafei has disappeared a month before his wedding to Anju, she resents him for having hurt her daughter the way that she herself was hurt, for it seems that her husband had also vanished from her life.[2] During the Reuniting Kafei and Anju sidequest, Anju's Mother will not be seen until the Final Day, except for in an obscure cutscene on the Second Night. If it is not underway, then she will be seen running the Stock Pot Inn on the Second Day, while Anju goes out to weep over Kafei's disappearance. Anju's mother, although seeming to want what is best for Anju, tends to try to bend Anju to her will, making her do what she herself would do.
An obscure cutscene between Anju and her Mother may be witnessed on the Second Night at 9:30 PM. If Link is in the rented room, he can eavesdrop on them both by pressing A on the ruined part of the wallpaper. Anju's Mother expresses her belief that Kafei has run off with Cremia, and that waiting for him will result in nothing. Anju insists that in Kafei's Letter he promised to return, but Anju's Mother insists in forgetting about the Letter and that she should just try to survive.[3]
During the cutscene, she also blames herself for Anju's naivety in waiting for Kafei due to the fact that she, too, also believed her husband would return after having disappeared.[2] Despite that she may show resentment and hatred for Kafei and his disappearance, she is saddened that the wedding will not happen, and instead they will spend their day taking refuge in Romani Ranch.[4]
During the ending credits, Anju's Mother is present at Anju and Kafei's Wedding.
Trivia
Anju's mother is one of the few human characters in Majora's Mask who does not have an Ocarina of Time counterpart.
Anju's mother reacts angrily to Kafei's Mask, telling Link not to speak to her with such an "unpleasant mask!"[5]
Nomenclature
References