Cave of Ordeals
Jump to navigation
Jump to search
The Cave of Ordeals is an optional Dungeon in Twilight Princess.[1]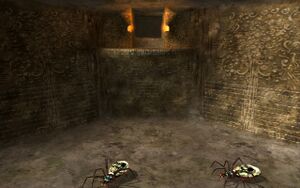 The Cave of Ordeals is located below the Gerudo Mesa, and can be accessed any time after restoring the Bridge of Eldin, as warping the Bridge back to its original location will reveal the Cave's entrance. The Dungeon contains a total of fifty floors; however, to make it into the deeper floors, Link will need several Items from further along in the game. Within the Cave, Link has to fight his way through hordes of enemies, and only by defeating each enemy within a floor will he be able to progress to the next floor.
After every ten floors, there is a Fountain in which the Great Fairy appears and rewards Link's efforts by releasing Fairies into the respective Spirit Spring,[2] before offering to Warp him outside to the surface.[3] Upon reaching the final floor, the Great Fairy there will reward the young hero with a Bottle full of Great Fairy's Tears.[4] The Great Fairy will also grant Link unlimited Great Fairy's Tears from the Spirit Spring, but only when he does not already have some in a Empty Bottle.[5]
In addition to ordinary enemies, Link can also find three Imp Poes in total on certain floors. Once they are defeated, the Imp Poes will no longer appear on their respective floors. Certain floors also contain recovery Hearts or valuable Rupees which can be found using Wolf Link's Senses.
Minor Enemies
Rewards
Trivia
The Cave of Ordeals plays the same role as the Savage Labyrinth from The Wind Waker; the difference being that the Cave of Ordeals requires the main items from the Lakebed Temple, Arbiter's Grounds, Snowpeak Ruins, the Temple of Time, and the City in the Sky in order to explore all of the floors and fully clear it. Another difference is that the Cave of Ordeals is completely optional, while the first 31 rooms of the Savage Labyrinth must be completed in order to progress in the game.
The second time completing the Cave, on the last ledge before the

Great Fairy

, the Postman can be found squatting down trying to read a Letter.
A cheat used for debugging purposes was accidentally left in the North American Wii 1.0 release of Twilight Princess. If

Link

uses the Gale Boomerang to extinguish the Torches on almost any floor of the

Cave of Ordeals

, the following room's door will be opened without the need to defeat any enemies. This cheat was disabled in all other regions and revisions of the game.[6][7]
Nomenclature
Names in Other Regions
Language
Name
Meaning
Japanese
試練の洞窟 (Shiren no Dōkutsu)
Cave of Trials
French

EU

Caverne de l'ordalie
Cavern of the ordeal
German
Drillhöhle
Drill Cave
Italian
Grotta della prova
Cave of the trial
Spanish

EU

Caverna de las Pruebas
Cavern of Trials
See Also
References